Pagsanjan Falls Tour Packages
Pagsanjan Falls, Laguna Packages
for as low as P3,124

Inclusions

2D1N Deluxe Room Accommodation
breakfast (starts on 2nd day)
Pagsanjan Falls boat ride
Banca Rental
Life Jacket
Cushion
Helmet
Rafting Fee
Lunch

for as low as P3,974

Inclusions

2D1N Deluxe Room Accommodation
breakfast (starts on 2nd day)
Roundtrip Van Transfers (Manila - Laguna - Manila)
Toll fees, gas and other vehicle expenses
Pagsanjan Falls boat ride
Banca Rental
Life Jacket
Cushion
Helmet
Rafting Fee
Lunch
for as low as P1,920

Inclusions

Pagsanjan Falls boat ride
Banca Rental
Life Jacket
Cushion
Helmet
Rafting Fee
Lunch

for as low as P2,280

Inclusions

Roundtrip Van Transfers (Manila - Laguna - Manila)
Toll fees, gas and other vehicle expenses
Pagsanjan Falls boat ride
Banca Rental
Life Jacket
Cushion
Helmet
Rafting Fee
Lunch
Pagsanjan Falls in Laguna is also known for its indigenous name "Magdapio Falls". The falls have grown into a major tourist destination for the region and also one of the premiere world class tourist destinations in the Philippines.
The Pagsanjan falls has its own natural beauty that fascinates the tourist from all over the globe. Travelers are ferried to the enthralling Pagsanjan falls with the native banka's paddled by expert boatmen, it takes an hour going while the return trip is just around 45 minutes. Pagsanjan Falls is believed to be the one of the best water falls in the Philippines. It is an adventure that should not be missed.
The falls is a natural swimming pool; the water is clear and cold. A good swimmer can dive to its heart's delight. One of the scenes in the movie "Apocalypse Now" was filmed here in 1979. If you take the trip, be prepared to get wet and bring some extra clothing and some plastic bag to protect your belongings.
The name of the town Pagsanjan comes from the Tagalog word "Pinagsangahan" which means "where it branches". This refers to the branching off of the two rivers, Bumbungan and Balanac.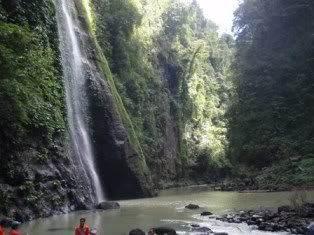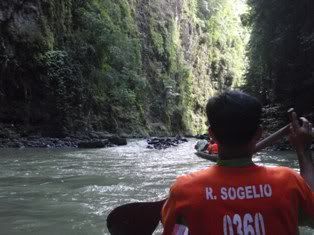 Best Times to Go
The rapids are exciting at any time, but if you have the choice, visit during the wet season (August and September) when the river levels are at their highest and the rapids therefore even more thrilling. It is a good idea to stay overnight in the town of Pagsanjan and then visit the falls early in the morning when few other people are on the river.
Adventures: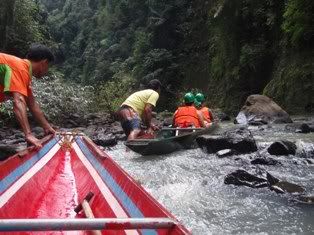 Tour Spots
Another waterfall is the Talahib Falls serve as the first stop for the upstream boat ride going to the main falls.
Behind the Pagsanjan falls you can find the Devil's Cave, they named it devil's cave because of its structure that looks like a face of a devil.
How to Get There
Pagsanjan Falls is about 2 hours drive to the south in Laguna via the South Luzon Expressway (SLEX), passing through the Calamba junction until you reach Barangay Pinagsanhan in Sta.Cruz, Cavinti, Laguna.