Where to Go: El Nido, Palawan Tourist Spots
El Nido, Palawan Packages
for as low as P15,783

Inclusions

N/A

for as low as P16,353

Inclusions

N/A

for as low as P2,635

Inclusions

3 days/ 2 nights Standard aircon room accommodation
Daily breakfast ( unless otherwise stated)
Island Hopping A with BBQ picnic lunch ( 1 day) - Private tour (click the button to see the full details)

for as low as P3,815

Inclusions

3 days/ 2 nights Standard aircon room accommodation
Daily breakfast ( unless otherwise stated)
Island Hopping A with BBQ picnic lunch ( 1 day) - Private tour (see details below)
Roundtrip land transfers from Puerto Princesa - via public aircon vehicle (500AM/ 700AM/ 900AM/ 100PM/300PM/ 600PM) (approximately 6 hours travel time)

for as low as P4,089

Inclusions

3 days/ 2 nights Standard aircon room accommodation
Daily breakfast ( unless otherwise stated)
Island Hopping A with BBQ picnic lunch ( 1 day) - Private tour (see details below)
Roundtrip land transfers from Puerto Princesa - via private aircon vehicle with anytime schedule ( approximately 5 to 6 hours travel time)

for as low as P4,484

Inclusions

4 days/ 3 nights Standard aircon room accommodation
Daily breakfast (unless otherwise stated)
Island Hopping A and B with BBQ picnic lunch ( 1 day) - Private tour (click the button for full details)
for as low as P5,568

Inclusions

4 days/ 3 nights Standard aircon room accommodation
Daily breakfast ( unless otherwise stated)
Island Hopping A and B with BBQ picnic lunch ( 2 days) - Private tour (click the button to see the full details)
Roundtrip land transfers from Puerto Princesa - via public aircon vehicle with set schedule ( approximately 6 hours travel time)

for as low as P5,953

Inclusions

4 days/ 3 nights Standard aircon room accommodation
Daily breakfast ( unless otherwise stated)
Island Hopping A and B with BBQ picnic lunch (2 days) - Private tour (click the button to see the full details)
Roundtrip land transfers from Puerto Princesa - via private aircon vehicle with anytime schedule (approximately 5 to 6 hours travel time)

for as low as P5,936

Inclusions

3 days/ 2 nights Standard aircon room accommodation in El Nido
2 days/ 1 night Standard aircon room accommodation in Puerto Princesa
Daily breakfast starting on day 2
1 Day of Island hopping in El Nido with BBQ picnic lunch - Private tour
Island Hopping A: Small Lagoon, Big Lagoon, Payong- payong Beach, Simizu Island, Intalula Island, Seven Commmandos Beach
Underground River tour with buffet lunch - Public tour ( 1st come 1st served)
Registration fees and permits
Licensed tour guide
Roundtrip transfers during tours ( pickup and dropoff at hotel)
Roundtrip land transfers from Puerto Princesa to El Nido van terminal via Public van (approximately 6 hours travel time) *Public van PP to EN schedule: 700AM/ 900AM/ 10AM/ 100PM/ 300PM/ 600PM *Public van EN to PP schedule: 700AM/ 930AM/ 1030AM/ 130PM/ 330PM/ 630PM

for as low as P5,791

Inclusions

2 days/ 1 night Standard aircon room accommodation in El Nido
3 days/ 2 nights Standard aircon room accommodation in Puerto Princesa
Daily breakfast starting on day 2
1 Day of Island hopping in El Nido with BBQ picnic lunch
Island Hopping A: Small Lagoon, Big Lagoon, Payong- payong Beach, Simizu Island, Intalula Island, Seven Commmandos Beach
Underground River tour with buffet lunch
Registration fees and permits
Licensed tour guide
Roundtrip transfers during tours ( pickup and dropoff at hotel)
Roundtrip land transfers from Puerto Princesa to El Nido via Private van

for as low as P7,705

Inclusions

3 days/ 2 night Standard aircon room accommodation in El Nido
3 days/ 2 nights Standard aircon room accommodation in Puerto Princesa
Daily breakfast starting on day 2
2 Days of Island hopping in El Nido with BBQ picnic lunch
Island Hopping A: Small Lagoon, Big Lagoon, Payong- payong Beach, Simizu Island, Intalula Island, Seven Commmandos Beach
Island Hopping B: Snake Island, Codugnon Cave, Cathedral Cave, Pinagbuyutan Island, South Pangulasian ( snorkeling area)
Half- day city tour
Underground River tour with buffet lunch
Registration fees and permits
Licensed tour guide
Roundtrip transfers during tours ( pickup and dropoff at hotel)
Roundtrip land transfers from Puerto Princesa to El Nido van terminal via Public van (approximately 6 hours travel time)

Public van PP to EN schedule: 700AM/ 900AM/ 10AM/ 100PM/ 300PM/ 600PM
Public van EN to PP schedule: 700AM/ 930AM/ 1030AM/ 130PM/ 330PM/ 630PM

for as low as P7,567

Inclusions

4 days/ 3 nights Standard aircon room accommodation in El Nido
2 days/ 1 night Standard aircon room accommodation in Puerto Princesa
Daily breakfast starting on day 2
2 Days of Island hopping in El Nido with BBQ picnic lunch - Private tour
Island Hopping A: Small Lagoon, Big Lagoon, Payong- payong Beach, Simizu Island, Intalula Island, Seven Commmandos Beach
Island Hopping B: Snake Island, Codugnon Cave, Cathedral Cave, Pinagbuyutan Island, South Pangulasian ( snorkeling area)
Underground River tour with buffet lunch - Public tour ( 1st come 1st served)
Registration fees and permits
Licensed tour guide
Roundtrip transfers during tours ( pickup and dropoff at hotel)
Roundtrip land transfers from Puerto Princesa to El Nido van terminal via Private Van
for as low as P10,953

Inclusions

N/A

for as low as P11,150

Inclusions

N/A
Contents:
El Nido has a lot of attractions to offer. From diving sites to island hopping adventures, your stay can never be dull and will only reward you of an exciting and unforgettable vacation. Below are some of the
most visited spots in El Nido. Some are described according to its importance, some are by what's in it… but definitely, El Nido cannot be explained through thousands of words, unless seeing and experiencing it personally.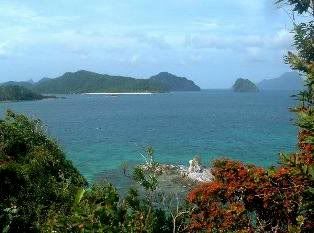 Bacuit Bay is composed of islands and islets where most of which are occupied by a mass of different marine species. Dugongs, turtles, manta rays, species of fishes, coral reefs, and the occasional whale sharks call their home here.
Cadlao Island is the largest island in El Nido allocating a land area of 10.06 km2. It is the closest island to the town proper and has the highest peak soaring up to 640 meters above sea level. It is recognized for its white sand beaches, hidden lagoons and nature trails good for trekking experience toward its lush thick forest. One of its nature trails leads to the saltwater of Makaamo Lagoon. This Lagoon is surrounded by Mangroves where different kinds of birds can be seen.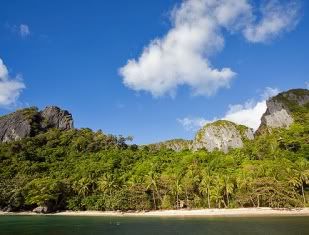 Beaches in Cadlao are Bocal Point, Natnat and Paradise Beach which is located at the Southern part while Sabang Beach in the North.
Also called as the Helicopter Island, Dilumacad Island's limestone cliffs resembles like that of a helicopter when it is viewed from a distance. It has beautiful 300 meters white sand which is a best place for lunch picnic and island hopping. There is also an underwater tunnel to its northern end and fringing reefs on the south.
El Nido Resorts
El Nido Resorts are composed of the Miniloc Island Resort and Lagen Island Resort. These are world-renowned island resorts known for the impeccable service and magnificent views.
Miniloc Island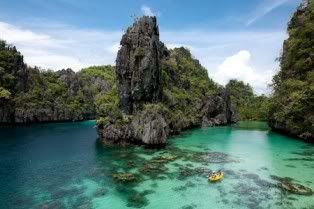 Miniloc Island is where the first resort in El Nido was built. It first started as a diving station for Japanese and European tourists. The Big and Small Lagoons can be found there which scientists believed were caves that eventually became a lagoon because of the collision of the said caves.
The Miniloc Island Resort is situated at the coastal village with the background of vertical limestone cliffs giving it an extra-ordinary scenery.
Lagen Island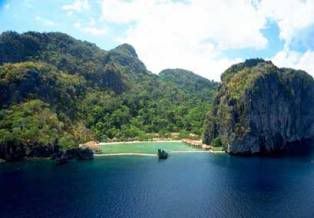 Lagen Island is where the Leta-Leta Cave, burial site of the Late Neolithic Age can be found. Important collections of stone, adzes, axes, shell beads and shell artifacts had been recovered here by Dr. Robert Fox in 1965 giving way to the discovery of its archeological contribution to the country.
Lagen Island Resort is the sister resort of Miniloc Island Resort which are both managed by Ten Knots Development Corporation
Pangalusian Island's wide stretches of powdery white sand is very ideal in beach activities. Some of those are sun bathing, sunset viewing and many more. Its front waters are clustered with various coral reefs making it ideal for snorkeling and diving activities as well.
It also has a trail to its middle where forest activities like bird-watching can be done. The trail ends at the highest peak of the island where Bacuit Island can be viewed at its most perspective scene and also the other nearby islands.
Vigan Island is more popular to tourist by its name "Snake Island" because of its s-shaped sandbar that is only visible when the tide is low. On both of its sides are shallow swimming areas.
Cudugnon Point, like the Lagen Island, has an important contribution in archeological science. This is where jewelry and some potteries dating back to the Sung Dynasty (960-1279 BC) were found. Anthropologists believed that the inhabitants of the cave were from Borneo who travelled across the bridge that connected Palawan and Borneo. The roofs of the caves are inhabited by insectivorous bats.
Matinloc Island is the longest thin island in El Nido. It has a secret beach of which is not accessible by boats because it is surrounded by sheer rock walls. You have to dive and swim underwater where there is the only way to pass through it like swimming inside a cave.
It is also famous for the Kulasa Beach stretching a hundred meters of fine white sand.
There are four dive sites in the island where the deepest one is about 39 meters deep, located at the South.
Pinasil Island has a cathedral-like structure which can be access through Bangka, kayak and small boats. It is an important site for bird's nest gatherers or locally known as Busyadors.
Aberawan River is walled with mangrove trees where several bird species can be seen roost among its stems. Tourists can also have a mangrove tour here.
Ille Cave was one of the ancient homes of the early people in El Nido dating 12,000 years ago. Archeologists found human fossils, potteries and traces of an 8,000 year old cremation inside. It is frequently visited by tourists because of its archeological importance.
Located at New Ibajay, it is a 45-minute drive from the town center.
It is a bar along Calle Real which was before a simple house. Its age? 70 years old. Local handicrafts and paintings are on its display and live music is performed every night.
Entalula Island is a perfect example of a tropical island because of its fine white sand lined with palm trees on the side. It is a good place for picnics, swimming or just for pure relaxation. Recently, it is turned into a rock climbing site so you can never get bored if you want a more adventurous activity.
Pinagbuyutan Island has a magnificent view from the top because of its shape and vertically aligned limestone walls. It also has a beach area where you can do swimming and picnics.
Seven commandos beach got its name after the 7 US commandos died on the beach after infected by severe malaria in 1980's. Presently, it is one of the stops when going for a tour to El Nido.
explore El Nido now! Check out our Tour Packages below!