What to Do: Boracay Island Adventure Activities
Boracay Island Packages
for as low as P3,016

Inclusions

3D/2N Standard aircon room accommodation
daily breakfast
roundtrip airport transfers (Caticlan Airport - hotel - Caticlan Airport)

for as low as P6,032

Inclusions

3D/2N Standard Aircon Room Accommodation
daily breakfast
ATV Rental (1 hour)
Parasailing (15 minutes)
roundtrip airport transfers (Caticlan Airport - hotel - Caticlan Airport)

for as low as P9,280

Inclusions

3D/2N Standard Aircon Room Accommodation
daily breakfast
Reef Walking (30 minutes)
Parasailing (15 minutes)
Jet ski rental (30 minutes)
ATV rental (1 hour)
roundtrip airport transfers (Caticlan Airport - hotel - Caticlan Airport)

for as low as P9,788

Inclusions

3D/2N Standard Aircon Room Accommodation
daily breakfast
ATV rental (1 hour)
Jet ski rental (30 minutes)
Island Hopping (3 hours)
Discover Scuba Diving for beginners
roundtrip airport transfers (Caticlan Airport - hotel - Caticlan Airport)

for as low as P10,672

Inclusions

3D/2N Standard Aircon Room Accommodation
daily breakfast
ATV rental (1 hour)
Jet ski rental (30 minutes)
Parasailing (15 minutes)
Discover Scuba Diving for beginners
roundtrip airport transfers (Caticlan Airport - hotel - Caticlan Airport)

for as low as P4,974

Inclusions

3D/2N Standard Aircon Room Accommodation
daily breakfast
Island Hopping (3 hours)
Reef Walking (30 minutes)
Flying Fish (15 minutes ride)
roundtrip airport transfers (Caticlan Airport - hotel - Caticlan Airport)
for as low as P5,290

Inclusions

N/A

for as low as P7,192

Inclusions

N/A

for as low as P4,930

Inclusions

N/A

for as low as P6,308

Inclusions

N/A

for as low as P5,554

Inclusions

N/A

for as low as P1,722

Inclusions

N/A
for as low as P8,004

Inclusions

N/A

for as low as P4,060

Inclusions

4D/3N Standard Aircon Room Accommodation
daily breakfast
roundtrip airport transfers (Caticlan Airport - hotel - Caticlan Airport)
Apart from resort and hotel accommodations, we also have various Boracay adventure activities and tours that we can include in your itinerary:
This is a popular sport in which the rider is hitched to a parachute-like canopy known as a parasail and is then set aloft in the air. Prime parasailing season is during the northeast monsoon in Boracay where the sea off White Beach is calm at that time. This includes a15-minute trip on the parasail.
ATV (All-Terrain Vehicle) Expeditions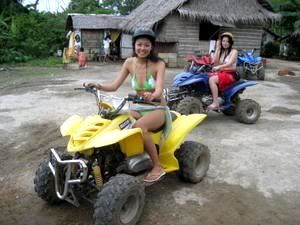 ATVs are four-wheel motor bikes that visitors can rent by the hour to explore the more rugged areas of Boracay Island. Experience the view of Mount Luho, the highest point in Boracay; or travel to Iligligan Beach and the sanctuary of flying mammals, the bat cave. Both are 1-hour trips.
Kitesurfing / Kiteboarding Lessons and Packages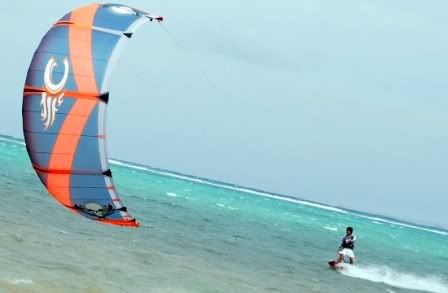 Boracay is fast becoming a haven for several extreme water sports, and kitesurfing (also known by its other name, kiteboarding) counts itself as one of them. This sport involves riding on a small surfboard and getting yourself propelled across a shallow body of water by a controllable power kite. We offer lessons and training in the best possible conditions. Lessons range from a safe beginners' area with shallow water to a great reef break for advanced riders. Instruction could be in the Filipino, English, German, Japanese, or Korean language.
Windsurfing Lessons and Packages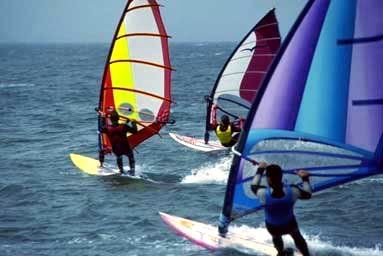 Boracay is one of the best windsurfing locations in Southeast Asia. The winds blow fairly consistently all year, getting stronger during the rainy season. We offer lessons and rentals for the beginner and advanced windsurfer.
Visit secluded beaches such as Puka Shell Beach, snorkel at Crocodile Island, go explore a bat cave, and have a picnic of fresh fish on the grill. A colorful outrigger boat (banca) takes you to the different islands.
Scuba Diving Lessons and Packages

Dive into the crystal clear waters of Boracay and experience unrivalled underwater visibility of up to 40 meters. Discover shipwrecks, cliffs covered with sponges, colorful corals, gorgonians, turtles, sharks, rays, and even the very rarely seen exotic fish like the Spanish dancer, harlequin ghost-pipefish, camouflaged frogfish, and fire gobies. We offer Discover Scuba diving lessons for those who are interested to dive without paying for a full course.
Reef Walking / Deep Sea Walking

This activity allows you to walk on the ocean floor (some 20 feet underwater) with heavy metal headgear. Experience the truly unusual activity of giving food and standing face-to-face with the fishes.
A minimum of 5 persons can get to enjoy this popular summer activity of riding on an unpowered recreational boat shaped like a banana and is designed to be pulled by a larger boat.
Jet Ski is actually the brand name of a personal water craft manufactured by Kawasaki Heavy Industries, Ltd. However, the name has become a trademark for any type of personal watercraft. It is one of Boracay's extreme recreational activities for those who want an adventurous vacation. Rentals are made by the hour.
A hovercraft or air-cushion vehicle (ACV), known in Boracay as the Flying Fish, is an amphibious vehicle or craft designed to travel over any sufficiently smooth surface. Try to jump all across the sea through the flying fish as your body coasts on top of the bumpy water while the flying fish is towed at high speeds. A minimum of 3 persons is required on this vehicle.
Jawili Falls and Hurom-Hurom Cold Springs Day Tour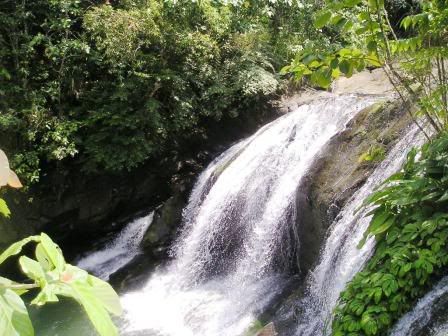 A whole-day activity that includes travel to Aklan and touring all around these destination spots. Minimum of 4 persons.