Mountain Hiking Packages and Adventure Information
Mountain Hiking Packages
for as low as P5,700

Inclusions

Roundtrip public transportation from Legazpi city proper/ airport to jump off point ( tricyle)
Local mountain and assistant guide ( 2 to 1 ratio)
Porters
All camping equipment ( tent, sleeping bag, earth pad)
Camp Meals ( Day 1: L , D/ Day 2: BF )
Environmental fees and registration
DENR Permit to climb

for as low as P4,314

Inclusions

3D2N Airconditioned Standard Room Accommodation
Daily set Breakfast
Albay Countryside Tour (see details below)
Mount Mayon Day Hike (see details below)
Private aircon van transportation ( for tours)
Driver
Rountrip land transfers (Airport - Hotel - Airport)

for as low as P6,825

Inclusions

Roundtrip public transportation from Legazpi city proper/ airport to jump off point (tricyle)
Local mountain and assistant guide (2 to 1 ratio)
Porters
All camping equipment (tent, sleeping bag, earth pad)
Camp Meals (Day 1: L, D / Day 2: BF, L, D / Day 3: BF)
Environmental fees and registration
DENR Permit to climb

for as low as P4,263

Inclusions

3D2N Airconditioned Standard Room Accommodation
Daily set Breakfast
Albay Countryside Tour (click the button for full details)
Sorsogon Exploration Day Tour (click the button for full details)
Mount Mayon Day Hike (click the button for full details)
Private aircon van transportation (for tours)
Driver
Rountrip land transfers (Airport - Hotel - Airport)
for as low as P3,379

Inclusions

3D2N Airconditioned Standard Room Accommodation
Daily set Breakfast
Sorsogon Exploration Day Tour (see details below)
Mount Mayon Day Hike ( see details below)
Private aircon van transportation ( for tours)
Driver
Rountrip land transfers (Airport - Hotel - Airport)

for as low as P3,600

Inclusions

Roundtrip transportation from Legazpi city proper/ airport to jump off point (tricycle)
Local mountain and assistant guide ( 2 to 1 ratio)
Packed lunch
Environmental fees and registration
DENR Permit to climb

for as low as P1,700

Inclusions

Roundtrip private aircon van transfers from Metro Manila
Private boat charter
Local mountain guide
All tourism fees and permits
Sidetrip to Tagaytay ( entrance fees are excluded)
Gas, toll fees and driver's allowance

for as low as P1,750

Inclusions

Roundtrip private aircon van transfers from Metro Manila
Private 4x4 vehicle
Local mountain guide
All tourism fees and permits
Sidetrip to Capas Shrine (entrance fees are excluded - P5 per person)
Gas, toll fees and driver's allowance
for as low as P1,400

Inclusions

Private 4x4 vehicle
Local mountain guide
All tourism fees and permits
Sidetrip to Capas Shrine (entrance fees are excluded - P5 per person)
The Philippines is a prime spot for mountain hiking and nature trekking, with its large forest reserve areas, vast lowlands and foothills, and countless volcanoes. The variety of terrain seen along with clear streams, waterfalls, and vegetation in the Philippines make it such an exciting place to partake in such a unique and challenging travel experience. Among the peaks you can explore are Taal Volcano, Mt. Apo, Mt. Pulag, and Mt. Mayon.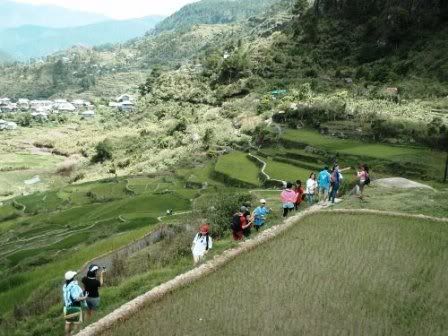 Best Times to Go
The summer months from March to June are the perfect times to engage in mountain biking. June to October may prove to be too perilous, as this is when strong typhoons are the norm, and it is best to avoid mountain biking during these months. However, one may resume mountain biking activities from November to February.
Mountain Hiking in the Philippines
With its varied terrain, everyone from the beginner to the hardcore hiker can find a location, be it in Luzon, Visayas, or Mindanao. The important thing is to know which level you would want to take. Locations are graded into levels:
Level 1 – Easy climb, best for beginners. Usually a one- to two-day climb.
Level 2 – Moderate climb, best for those with previous mountaineering experience or do it irregularly.
Leval 3 – Hard climb, for hardcore mountaineers or regular trekkers with vast mountaineering experience.
We offer climbs and treks in the following locations:
Years after its 1991 eruption, Mt. Pinatubo has now transformed into a must-see destination particularly for hikers. Surrounded by a vast expanse of lahar-filled valleys, boulders the size of cars, and inhabited by a number of local Aeta tribespeople, Mt. Pinatubo offers a breathtaking view of a hidden lake inside its crater – definitely an enchanting reward for intrepid explorers and trekkers.
The journey to Mt. Pinatubo consists of 60 minutes of 4×4 action, followed by three hours of trekking. Raw, rugged, yet beautiful, Mt. Pinatubo promises to be no easy climb.
The majestic mountains of Benguet superimposed with the stillness of its surroundings truly makes for an awesome site. Towering among these mountains is Mt. Pulag. Covering 11,550 hectares with parts in Benguet, Ifugao, and Nueva Vizcaya, this mountain was declared a national park in 1987 in order to preserve and protect the ecology and endangered animals of the area. Several tribes in the area call Mt. Pulag home and consider it sacred. ]
The journey through Mt. Pulag can be long and arduous, but definitely rewarding. At 2,922 feet above sea level, Mt. Pulag has one of the best sunset and sunrise views.
One has two options in Mt. Pulag: The easy climb through the Ambangeg trail (half-day climb) or the much harder Akiki trail (2-day climb).
Purported to be the smallest active volcano in the world, Taal Volcano lies about 70 kilometers south of Manila, on volcano island inside Taal Lake.
This is one of the more easily accessible trekking destinations from the metro. Consequently, this has become a little bit commercialized and the trail has become worn and does not really offer much effort in climbing. Despite all this, the view from the summit has not changed: It is still awesome.
One other option that one has is to go for sailing lessons in Taal Lake.
Mayon Volcano is an active volcano situated in the Philippine island of Luzon, in the province of Albay in the Bicol Region. It is famous for its almost-perfect cone. Approximately 15 kilometers southeast of the volcano is Legazpi City.
The name takes its name from the word magayon, meaning "beautiful" in the Bicolano dialect. Mt. Mayon has erupted about 47 times in the past 400 years and is the most active volcano in the Philippines – erupting as recently as February 2000 – and a wisp of smoke continuously whists around the cone's top, suggesting that this mountain is truly indeed a sleeping beauty.
Cordillera Loop (Benguet Province, Mountain Province, Ifugao Province)

This trekking expedition brings you to three landlocked provinces in the Cordillera Autonomous Region that are known for their majestic mountains. Among the popular destinations you will see on this trek include the Sagada Cave, Mt. Ampacad, Lake Panum, Bontoc, Banaue Rice Terraces, View Point, Batad Rice Terraces, Tappya Falls, and Mt. Data.