Where to Go: Donsol Tourist Spots and Activities
Donsol, Sorsogon Packages
for as low as P3,173

Inclusions

3 days/ 2 nights Standard aircon Accommodations with private bathroom
daily breakfast
1 day of Butanding/ Whale shark interaction (3 hours - Peak Season/ 4 to 5 hours - Regular )

private boat charter
Butanding Interaction Officer (BIO)
spotter
boat crew
life vests

roundtrip airport transfers (Legaspi Airport - hotel - Legaspi Airport)

for as low as P2,563

Inclusions

3D/2N Standard Aircon accommodation with private bathroom
Daily breakfast
1 day of Whale Shark Interaction (3 hours - Peak Season/ 4 to 5 hours - Regular Season)

private boat charter
Butanding Interaction Officer (BIO)
spotter
boat crew
life vests

for as low as P5,322

Inclusions

3 days/ 2 nights Standard aircon Accommodations with private bathroom
daily breakfast
1 day of Butanding/ Whale Shark Interaction (3 hours - Peak Season/ 4 to 5 hours - Regular)

Private boat charter
Butanding Interaction Officer (BIO)
Spotter
Boat crew
life vests

Roundtrip aircon van transfers (Metro Manila - hotel - Metro Manila)
for as low as P2,819

Inclusions

3 days/ 2 nights Standard aircon Accommodations with private bathroom
Daily breakfast
1 day of Butanding/ Whale Shark interaction (3 hours - Peak Season/ 4 to 5 hours - Regular)

private boat charter
Butanding Interaction Officer (BIO)
spotter
boat crew
life vests

Firefly River cruise (1 to 1.5 hours)

private boat charter
firefly tour guide
boat crew

for as low as P3,680

Inclusions

3 days/ 2 nights Standard aircon Accommodations with private bathroom
Daily breakfast
1 day of Butanding/ Whale Shark Interaction (3 hours - Peak Season/ 4 to 5 hours - Regular )

private boat charter
Butanding Interaction Officer (BIO)
spotter
boat crew
life vests

Firefly River cruise (1 to 1.5 hours )

private boat charter
firefly tour guide
boat crew

Sudsod Shrimp Catching (1 to 1.5 hours )

private tour guide
local instructor
sudsod
towel
Contents:
Here are the tour spots in Donsol:
Swimming with Whale Sharks (Whale Shark Interaction)
In 2004, swimming with these whale sharks was featured as the Best Animal Encounter in Asia by the Time Magazine. Since whale shark is the largest fish in the world, it is an extraordinary experience interacting with them and swimming right beside them.
Whale sharks found a home in Donsol because of its unusual quantity of planktons which they feed upon on and also for its tropical and warm seas. It's been hundreds of years since the whale sharks occasionally inhabit this place, though Donsolanos thought that these animals are harmful sharks. It was only until January 1998 when a group of divers led by Romir Aglugub had the courage to interact and swim with them which led to prove that they are timid and safe.
Other activities and tours like firely cruise can be done all year round.
The Manta Bowl off Ticao Island is the "Manta Ray Capital of the Philippines". They are the largest and the most harmless on its kind. It has no stinging spines and like the whale sharks, they live in tropical warm waters and feed on planktons.
Manta Rays are believed to be one of the smartest sea creatures because of their being approachable and solicitation of attention from divers.
Click here for Scuba Diving with Manta Ray Packages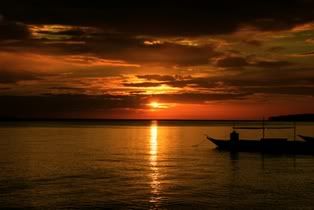 Going on a firefly cruise is one of the most serene and romantic tour one can ever experience. You can feel a deep sense of contentment when witnessing this event of thousands and thousands of fireflies congregating on one spot and lighting up at the same time.
Experience catching shrimps during sunset with the Sudsod fishermen. You'll wear an improvised hat with a kerosene lamp over your head, stand and wait in the mouth of the river, waste-deep, where you can catch the crustaceans through a net.
Also Try: Scuba Diving in Sorsogon, Philippines
explore Donsol now! Check out our Tour Packages below!