Where to Go: Davao Tourist Spots and Activities
Davao City Packages
for as low as P4,276

Inclusions

3D2N Standard Airconditioned room accommodation
Daily Breakfast (starting Day 2)
Davao City Exploration Tour
Whitewater Rafting Adventure (700AM to 100PM or 12PM to 600PM)
Samal Island Hopping Adventure
Roundtrip Transfers (Airport-Hotel-Airport)

for as low as P3,979

Inclusions

3D2N Standard Airconditioned room accommodation
Daily Breakfast (starting Day 2)
Triple Countryside Adventure: Eden Nature Park + Philippine Eagle Center + Malagos Garden
Camp Sabros Zipline Adventure
Samal Island Hopping Adventure
Roundtrip Transfers (Airport-Hotel-Airport)

for as low as P4,178

Inclusions

3D2N Standard Airconditioned room accommodation
Daily Breakfast (starting Day 2)
Whitewater Rafting Adventure (700AM to 100PM or 12PM to 600PM)
Camp Sabros Zipline Adventure
Roundtrip Transfers (Airport-Hotel-Airport)

for as low as P3,308

Inclusions

3D2N Standard Airconditioned room accommodation
Daily Breakfast (starting Day 2)
River Tubing Adventure (700AM to 12PM)
Camp Sabros Zipline Adventure
Roundtrip Transfers (Airport-Hotel-Airport)
for as low as P1,854

Inclusions

3D2N Standard Airconditioned room accommodation
Daily Breakfast (starting Day 2)
Davao City Exploration Tour
Triple Countryside Adventure: Eden Nature Park + Philippine Eagle Center + Malagos Garden
Roundtrip Transfers (Airport-Hotel-Airport)

for as low as P3,569

Inclusions

3D2N Standard Airconditioned room accommodation
Daily Breakfast (starting Day 2)
Davao City Exploration Tour Triple Countryside Adventure: Eden Nature Park + Philippine Eagle Center + Malagos Garden
Samal Island Inland Exploration Day Tour
Roundtrip Transfers (Airport-Hotel-Airport)

for as low as P3,406

Inclusions

3D2N Standard Airconditioned room accommodation
Daily Breakfast (starting Day 2)
Triple Countryside Adventure: Eden Nature Park + Philippine Eagle Center + Malagos Garden
Samal Island Inland Exploration Day Tour
Roundtrip Transfers (Airport-Hotel-Airport)

for as low as P3,724

Inclusions

3D2N Standard Airconditioned room accommodation
Daily Breakfast (starting Day 2)
Davao City Exploration Tour
Triple Countryside Adventure: Eden Nature Park + Philippine Eagle Center + Malagos Garden
Samal Island Inland Exploration Day Tour
Roundtrip Transfers (Airport-Hotel-Airport)
Apart from resort and hotel accommodations, we also have Davao adventure activities and tours that we can include to your itinerary:
Whitewater rafting Adventure Trip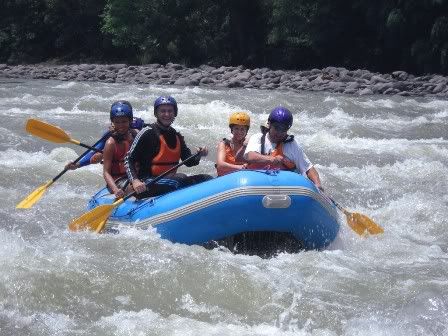 Experience wild water river rafting in Davao River. Ride through 24 extreme rapids from Barangay Tamugan to Barangay Lacson in Calinan District that ranges from Class I to class IV rapids.
Zipline/Canopying at Camp Sabros

Located at Digos City, enjoy one of the country's longest zipline (400m and 380m) with Mt. Apo as your backdrop. New adventure attractions are also available here such as the treetop rapelling and pendulum swinging.
This world-class resort boasts of white sand beaches over a 14-hectare spread. It was once a pearl farm, where thousands of white-lipped oysters transported from the Sulu Sea were cultivated for their pink, white, and gold pearls. Today, the resort beckons with the promise of a relaxing, private retreat, under the care of its friendly and charming staff. Includes buffet lunch.
Mt. Eden Resort, located 2,000 feet above sea level, is a magical getaway offering breathtaking views of the surrounding plains. Cooler temperature and pure air make it a powerful place for healing mind, body and soul. This mountain resort reservation offers a cool climate, lush forest, and natural surroundings, overlooking the city and the gulf. The area is suitable for camping, nature hiking, bird watching, and horseback riding.
Drive up the slopes of Calinan to find the Philippine Eagle Nature Center, a sanctuary built close to their natural habitat. A sumptuous lunch awaits you at the Malagos Resort, where rows of orchids are planted in tradition of the famous Banaue rice terraces, and then on toward the Davao Crocodile Park as the last stop.
Rediscover the rich heritage of Mindanao at the Davao Museum. Tour around the Shrine of the Holy Infant Jesus of Prague, which overlooks the city. The tour ends with a shopping spree at Aldevinco Shopping Center and Madrazo Fruit stand, where you will experience your first whiff of Davao's famed fruits. The tour also includes visits to the Davao Crocodile Park, Puentespina Orchid Garden, and St. Peter's Cathedral.
An exciting ferry ride will take you to Island Garden City of Samal, where an air conditioned vehicle will take you into the island, passing through coconut palms, mango plantations, and a mangrove forest. There will be a stop at Bat Kingdom, where one can see millions of bats in three adjoining caves, followed by a drive through to the City Hall of Samal, passing the city proper before having a short trek to Hagimit Falls, where one can take a dip in its cool waters and spend the remainder of the day.
explore Davao now! Check out our Tour Packages below!