Dahilayan Adventure Park, Bukidnon Travel Information
Bukidnon Packages
for as low as P4,454

Inclusions

Overnight standard aircon accommodation in Cagayan de Oro
Overnight Family Loft Aircon accommodation in Paras Beach Resort/ Camiguin
Daily breakfast (starting on 2nd day)
Whitewater rafting adventure

Roundtrip land transfers from CDO hotel
White water rafting adventure - beginner's course
all necessary equipments and gear
river guide
all fees and permits
set meal/ lunch

Camiguin Countryside tour
White Island boat trip
Bukidnon/ Dahilayan Adventure Park Day tour
Roundtrip private aircon land transfers in CDO, Camiguin and Bukidnon - via Laguindingan airport (If time permits, free stopover at Divine Mercy, Opol Seaside and Vjandep Pasalubong Center)

for as low as P4,165

Inclusions

3 days/ 2 nights standard aircon accommodation in Cagayan de Oro
Daily breakfast (starting on 2nd day)
Whitewater rafting adventure

Roundtrip land transfers from CDO hotel
White water rafting adventure - beginner's course
all necessary equipments and gear
river guide
all fees and permits
set meal/ lunch

Kweba de Oro Caving and Rappelling Adventure (730AM to 100PM)

Roundtrip land transfers from CDO hotel
guide
all gears and equipment
lunch

Bukidnon/ Dahilayan Adventure Park Day tour OR Iligan Exploration Day tour
Roundtrip private aircon land transfers in CDO, Bukidnon/ Iligan and Kweba de Oro - via Laguindingan airport ( If time permits, free stopover at Divine Mercy, Opol Seaside and Vjandep Pasalubong Center)
for as low as P5,649

Inclusions

3 days/ 2 nights standard aircon accommodation in Cagayan de Oro
Overnight Family Loft Aircon accommodation in Paras Beach Resort/ Camiguin
Daily breakfast (starting on 2nd day)
Whitewater rafting adventure

Roundtrip land transfers from CDO hotel
White water rafting adventure - beginner's course
all necessary equipments and gear
river guide
all fees and permits
set meal/ lunch

Camiguin Countryside tour
White Island boat trip
Bukidnon/ Dahilayan Adventure Park Day tour
Iligan Exploration Day tour
Roundtrip private aircon land transfers in CDO, Camiguin, Bukidnon and Iligan - via Laguindingan airport ( If time permits, free stopover at Divine Mercy, Opol Seaside and Vjandep Pasalubong Center)

for as low as P5,185

Inclusions

3 days/ 2 nights standard aircon accommodation in Cagayan de Oro
Overnight Family Loft Aircon accommodation in Paras Beach Resort/ Camiguin
Daily breakfast (starting on 2nd day)
Whitewater rafting adventure

Roundtrip land transfers from CDO hotel
White water rafting adventure - beginner's course
all necessary equipments and gear
river guide
all fees and permits
set meal/ lunch

Camiguin Countryside tour
White Island boat trip
Bukidnon/ Dahilayan Adventure Park Day tour
Roundtrip private aircon land transfers in CDO, Camiguin and Bukidnon - via Laguindingan airport ( If time permits, free stopover at Divine Mercy, Opol Seaside and Vjandep Pasalubong Center)
Dahilayan Adventure Park in Bukidnon is proud of their Dual Zipline – the longest is Asia. Zipzone, as what it is called speeds up to 90 kph, 840m long and launches at 4,700 feet above sea level. This nerve-racking adventure is guaranteed safe for all ages and in fact was already tried by a 2 year old baby and a 77 year old grandpa! While relishing the adrenaline rush, one can enjoy the mountainous back-drop as if flying very high above the air!
Park Amenities
BOTANICA cafe & garden and COWBOY's Grill NOW OPEN to Serve You. These restos are not inside the Park but are just a few meters away from Dahilayan Adventure Park.
Dahilayan Adventure Park's Clubhouse and other amenities are still under construction, as such, we still allow our guests to bring food without corkage fee
150m, 320m & 840m Zipline Rides
Wall Climbing & Ropes Course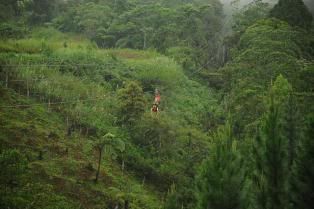 Asia's longest zipline ride with Julie.
Rates:
Ropes Course: P200.00/head
Wall Climbing: 100.00/head
Zipline Rates:
840mt (40kls – 110 kls only): P500.00/pax/ride
320m + 150mt: P250.00/pax/ride
Child Tandem: P150.00 (if below 5 years old and weighs not over 20kls.)
All Rides (320mt. + 150mt. + 840mt.): P 600.00/pax/ride
Note: Due to sudden changes in the weather, we highly recommend  the guests to bring a jacket  when they visit the park. Dahilayan Adventure Park is 4,700 feet above sea level, so some guest may become sensitive to the change in temperature or oxygen levels.