Where to Go: Caramoan Islands Attractions
Caramoan Islands Packages
for as low as P3,493

Inclusions

3D2N Standard Room Accommodation
Daily Set Breakfast (Starting Day 2)
2 Days of Caramoan Island Exploration - see details below
Roundtrip Transfers to Bikal port/Paniman Beach
Roundtrip Ferry Fees from Sabang Port to Guijalo Port (Escorted by Guide)
Private boat charter for Island Hopping
Boat Crew and Tour guide
Picnic lunch during Island Hopping

for as low as P3,768

Inclusions

3D2N Standard Room Accommodation
Daily Breakfast (Starting Day 2)
2 Days of Caramoan Island Exploration - see datails below
Roundtrip Transfers to Bikal port/ Paniman Beach
Private boat charter for Island Hopping
Boat Crew & Tour Guide
Picnic lunch during Island Hopping
Roundtrip land transfers from and to Naga Airport
Roundtrip Ferry Fees from Sabang Port to Guijalo Port (Escorted by Guide)
for as low as P5,136

Inclusions

3D2N Standard Room Accommodation
Daily set breakfast (Starting Day 2)
2 Days of Caramoan Island Exploration - see details below
Roundtrip transfers to Bikal port/ Paniman Beach
Private boat charter
Boat Crew & Tour guide
Picnic lunch during island hopping
Roundtrip Ferry Fees from Sabang Port to Guijalo Port (Escorted by Guide)
Roundtrip aircon van transfers from Metro Manila
Option for stop-over at CWC Water Sports Complex – fees and meals are excluded
Where to Go
Caramoan Islands is one of the National Parks of the Philippines and has been listed as one of the best destination in the world by Top Resa 2008, the biggest travel and tradeshow tourism forum in France. It will not be included in the list if it has nothing special to offer. We gathered the best places and tourist attractions you can see when you visit the Caramoan Islands.
Gota beach is the primary attraction of Caramoan. This is the main setting of "Koh Lanta Caramoan". Located 5kilometers away from the town proper, Gota beach is the jump-off point for island hopping to Matukad and Lahuy Islands.
Gota Beach is composed of two caves, the Big Gota and Little Gota. Big Gota is the most popular since it is the nearest to the town. Not the least as its name, Little Gota is proud of its powdery white sand comparable to Boracay Island.
Upon arriving at Gota Beach, you will see a large rock which is a mark that you're already at the Gota Beach. They call it Explorer's Rock.
Lahuy is a dog bone like and the largest island in the northern part of the Caramoan Peninsula which is surrounded by smaller islets. It is 10 kilometer long and 3.5 kilometer wide. Its single fine white sand shore is the longest among the islands of Caramoan and the entire Camarines Sur. Even before the start of WWII, Barangay Gota in Lahuy Island was already known as a gold-mining community, and Caramoan was before referred as Guta de Leche by the Dutch traders who operated the gold mining plant. When the Spanish came, its name changed to "Carahan" derived from the sea turtles commonly seen on its shores.
Nipa Beach and Bugtong beach are also a part of Lahuy Island. Nipa beach has long and wide shoreline which is adjoining with Bugtong Beach which distinctly has black freckled rock formation.
Matukad is one of the small islands in Caramoan. Its shores are covered with fine white sand and walled with spectacular limestone cliffs. It has a lush tropical forest where you can find a small hidden lake at its center.
Tayak Lagoon and Tayak Beach (Malarad group of Islands)

Tayak beach is a coral pebbled beach located in Malarad Island. It can only be accessed by boats during high tides since the broad coral formation prevents any boats from entering it during low tides. As for Tayak Lagoon, it is a hidden salt body of water located in the center about 100meters from the Tayak Beach. One can swim underneath the Tayak beach rocks to access the lagoon. It has a vast coral garden great for snorkeling trips.
Sabitang Laya Island (Bagi-eng Beach)

Sabitang Laya in Lucsuhin group of Island is a triangular island bounded by a long fine white shoreline. The long stretch of the beach can reach up to 2 kilometers if combined. Like the other island, it is ideal for swimmers, beach combers and snorkelers. It is also has tall and large cliffs perfect for rock climbing and repelling adventures.
It was claimed to be the "Survivors" favorite shooting location among the other islands of Caramoan.
Cotivas Island is a must-have on your list of itinerary. Experience the feeling of being lost in a paradise. Cotivas Island is like a dessert of fine white sandbars during low tides. It is as if you're in a paradise of endless skies, with a backdrop of a green tropical island and clear ocean waters gently rushing to your feet. Indeed a perfect place for day dreaming and relaxation.
Guinahuan Island / Liwan Beach
Guinahuan Island and Liwan Beach also offers a scale of white sand bar that eventually hellos during low tide. Like the other island, it has a diverse marine life that will be a great experience for snorkeling and scuba diving.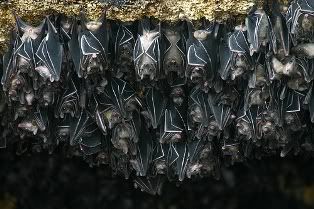 Culapnit Cave in Sitio Bariw is a great place for spelunking and repelling because of its tall rock formations, stalactites and stalagmites. It is a home for thousands of bats giving life to it. In fact, its name "Culapnit" or "Kulapnit" is the local term for "bat". They are the provider of Guano Manure, a primary ingredient of fertilizers and gunpowder.
Our Lady of Peace Grotto (Our Lady of the Most Holy Rosary)
Built in 1989, Mother of Peace Grotto (The Marian Image) of Caramoan is the biggest in the Philippines. Towering at the peak of Caglago Mountain in Barangay Tabgon, it has a total of 530 steps from the foot of the mountain so get your legs and feet ready for a stairway climbing adventure. Tiring it may seem you can get a worthy 180º fascinating view of the islands and Tabgon Bay.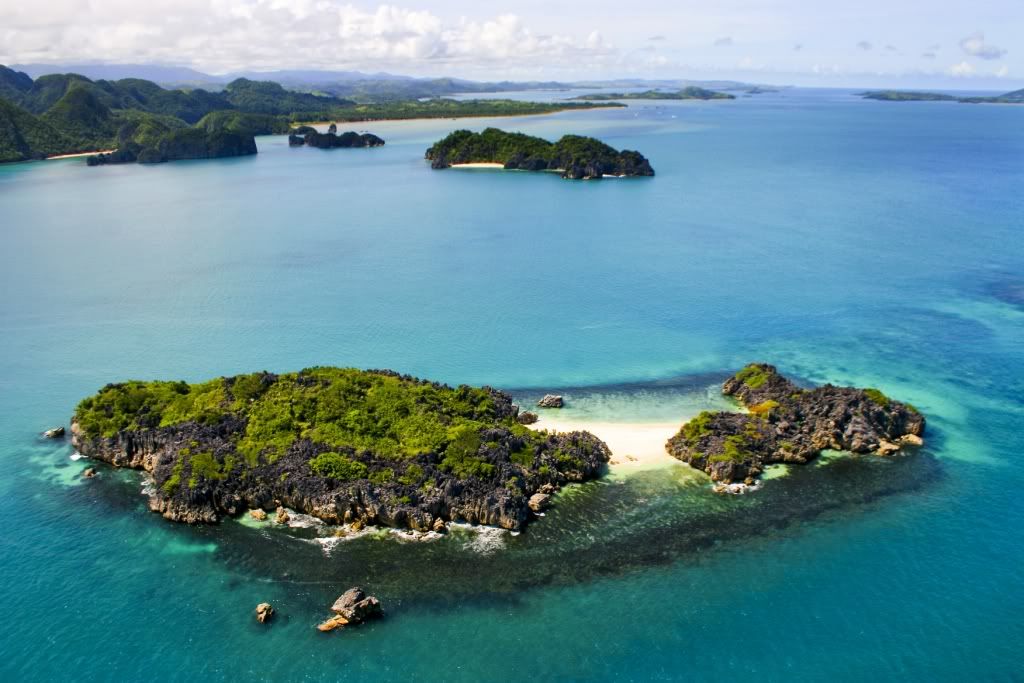 Lahos Island (or Lajos Island)has fine white sand shore like a thin sheet of paper in-between of two identical rocks. During high-tide, it eventually disappears and can only be seen again during low tides. This is where it gets its name, "Lahos" also means "Laho" which is "vanish" in English word.
Pitogo Island / Lantangan Beach
Pitogo Island has an approximately 6-7 hectares of total land area which has a unique smooth-edge stone shoreline called Lantangan Beach.
Minalahos Beach/ Cagbalinad Beach
Minalahos and Cagbalinad are two adjacent islets with small white sand beaches that sink during high tides. With limestone cliffs as a backdrop, these are perfect for rock climbing adventures.
Hunongan Beach is situated at the right side of Gota Beach and is set at the foot of the lush green hills and limestone cliffs. There's an on-going government project there that constructs a new seaside hotel resort which is a leap in modernization that will surely attracts more tourists and visitors.
Tinago Island offers 3 small hidden beaches inside it walled with spectacular rock formations covered with lush green tropical vegetation. It is truly a post-card perfect landscape.
Tinago Island got its name from the word "Tinago" which means "hidden" in English word.
CWC (CamSur Watersports Complex)
CamSur Watersports Complex is a water park for wakeboarding, kneeboarding, wakeskating and water-skiing/ cable-skiing adventures. Located within the Provincial Capitol Complex of Camarines Sur at Cadlan, Pili. CWC is a 20-30 minute ride from Naga Airport.
It is not "just" a park. CWC is specially designed for all levels of wake boarders whether you're a beginner or a pro. It is a world-class watersports complex that can facilitate all you're wakeboarding needs.
CWC has a 6-point cable ski system, with side-restaurants, sand bars, spas, wakeboarding shops and grand stands to hold guests. You can also enjoy your water sports even at night because it is equipped with proper lightings and spotlights.
If you want to try or include a wakeboarding adventure to your itinerary: click here for our Wakeboarding Packages.
explore Caramoan now! Check out our Tour Packages below!