Cagayan de Oro Travel and Tour Packages
Cagayan de Oro Packages
for as low as P4,454

Inclusions

Overnight standard aircon accommodation in Cagayan de Oro
Overnight Family Loft Aircon accommodation in Paras Beach Resort/ Camiguin
Daily breakfast (starting on 2nd day)
Whitewater rafting adventure

Roundtrip land transfers from CDO hotel
White water rafting adventure - beginner's course
all necessary equipments and gear
river guide
all fees and permits
set meal/ lunch

Camiguin Countryside tour
White Island boat trip
Bukidnon/ Dahilayan Adventure Park Day tour
Roundtrip private aircon land transfers in CDO, Camiguin and Bukidnon - via Laguindingan airport (If time permits, free stopover at Divine Mercy, Opol Seaside and Vjandep Pasalubong Center)

for as low as P3,300

Inclusions

Overnight standard aircon accommodation in Cagayan de Oro
Overnight Family Loft Aircon accommodation in Paras Beach Resort/ Camiguin
Daily breakfast ( starting on 2nd day)
Whitewater rafting adventure

Roundtrip land transfers from CDO hotel
whitewater rafting adventure - beginner's course
all necessary equipments and gear
river guide
all fees and permits
set meal/ lunch

Camiguin Countryside tour
White Island boat trip

for as low as P4,234

Inclusions

Overnight standard aircon accommodation in Cagayan de Oro
Overnight Family Loft Aircon accommodation in Paras Beach Resort/ Camiguin
Daily breakfast ( starting on 2nd day)
Whitewater rafting adventure

Roundtrip land transfers from CDO hotel
White water rafting adventure - beginner's course
all necessary equipments and gear
river guide
all fees and permits
set meal/ lunch

Camiguin Countryside tour
White Island boat trip
Roundtrip private aircon land transfers in CDO and Camiguin - via Laguindingan airport ( If time permits, free stopover at Divine Mercy, Opol Seaside and Vjandep Pasalubong Center)

for as low as P4,165

Inclusions

3 days/ 2 nights standard aircon accommodation in Cagayan de Oro
Daily breakfast (starting on 2nd day)
Whitewater rafting adventure

Roundtrip land transfers from CDO hotel
White water rafting adventure - beginner's course
all necessary equipments and gear
river guide
all fees and permits
set meal/ lunch

Kweba de Oro Caving and Rappelling Adventure (730AM to 100PM)

Roundtrip land transfers from CDO hotel
guide
all gears and equipment
lunch

Bukidnon/ Dahilayan Adventure Park Day tour OR Iligan Exploration Day tour
Roundtrip private aircon land transfers in CDO, Bukidnon/ Iligan and Kweba de Oro - via Laguindingan airport ( If time permits, free stopover at Divine Mercy, Opol Seaside and Vjandep Pasalubong Center)
for as low as P5,069

Inclusions

3 days/ 2 nights standard aircon accommodation in Cagayan de Oro
Daily breakfast ( starting on 2nd day)
River tubing adventure with lunch
Mapawa Nature Park River trekking and Canyoneering Adventure with lunch

Roundtrip land transfers from CDO hotel
river trekking adventure
all necessary equipments and gear
river/ mountain guide
all fees and permits
set lunch and snack

Bukidnon/ Dahilayan Adventure Park Day tour OR Iligan Exploration Day tour
Roundtrip private aircon land transfers in CDO, Bukidnon/ Iligan and Mapawa Nature Park - via Laguindingan airport (If time permits, free stopover at Divine Mercy, Opol Seaside and Vjandep Pasalubong Center)

for as low as P5,649

Inclusions

3 days/ 2 nights standard aircon accommodation in Cagayan de Oro
Overnight Family Loft Aircon accommodation in Paras Beach Resort/ Camiguin
Daily breakfast (starting on 2nd day)
Whitewater rafting adventure

Roundtrip land transfers from CDO hotel
White water rafting adventure - beginner's course
all necessary equipments and gear
river guide
all fees and permits
set meal/ lunch

Camiguin Countryside tour
White Island boat trip
Bukidnon/ Dahilayan Adventure Park Day tour
Iligan Exploration Day tour
Roundtrip private aircon land transfers in CDO, Camiguin, Bukidnon and Iligan - via Laguindingan airport ( If time permits, free stopover at Divine Mercy, Opol Seaside and Vjandep Pasalubong Center)

for as low as P5,185

Inclusions

3 days/ 2 nights standard aircon accommodation in Cagayan de Oro
Overnight Family Loft Aircon accommodation in Paras Beach Resort/ Camiguin
Daily breakfast (starting on 2nd day)
Whitewater rafting adventure

Roundtrip land transfers from CDO hotel
White water rafting adventure - beginner's course
all necessary equipments and gear
river guide
all fees and permits
set meal/ lunch

Camiguin Countryside tour
White Island boat trip
Bukidnon/ Dahilayan Adventure Park Day tour
Roundtrip private aircon land transfers in CDO, Camiguin and Bukidnon - via Laguindingan airport ( If time permits, free stopover at Divine Mercy, Opol Seaside and Vjandep Pasalubong Center)

for as low as P3,825

Inclusions

3 days/ 2 nights standard aircon accommodation in Cagayan de Oro
Overnight Family Loft Aircon accommodation in Paras Beach Resort/ Camiguin
Daily breakfast ( starting on 2nd day)
Whitewater rafting adventure

Roundtrip land transfers from CDO hotel
White water rafting adventure- beginner's course
all necessary equipments and gear
river guide
all fees and permits
set meal/ lunch

Camiguin Countryside tour
White Island boat trip
for as low as P4,779

Inclusions

3 days/ 2 nights standard aircon accommodation in Cagayan de Oro
Overnight Family Loft Aircon accommodation in Paras Beach Resort/ Camiguin
Daily breakfast (starting on 2nd day)
Whitewater rafting adventure

Roundtrip land transfers from CDO hotel
White water rafting adventure - beginner's course
all necessary equipments and gear
river guide
all fees and permits
set meal/ lunch

Camiguin Countryside tour
White Island boat trip
Roundtrip private aircon land transfers in CDO and Camiguin - via Laguindingan airport (If time permits, free stopover at Divine Mercy, Opol Seaside and Vjandep Pasalubong Center)

for as low as P6,426

Inclusions

3 days/ 2 nights standard aircon accommodation in Cagayan de Oro
Overnight Family Loft Aircon accommodation in Paras Beach Resort/ Camiguin
Daily breakfast (starting on 2nd day)
Whitewater rafting adventure

Roundtrip land transfers from CDO hotel
White water rafting adventure - beginner's course
all necessary equipments and gear
river guide
all fees and permits
set meal/ lunch

Camiguin Countryside tour
White Island boat trip
Mapawa Nature Park River trekking and Canyoneering Adventure

Roundtrip land transfers from CDO hotel
river trekking adventure
all necessary equipments and gear
river/ mountain guide
all fees and permits
set lunch and snack

Roundtrip private aircon land transfers in CDO, Camiguin and Mapawa Nature Park - via Laguindingan airport (If time permits, free stopover at Divine Mercy, Opol Seaside and Vjandep Pasalubong Center)
Cagayan de Oro is one of the progressive cities of Mindanao and is considered to be the business center of northern Mindanao. It is the capital city of Misamis Oriental.
Majority of the people here speak Cebuano because some of the people here came from Cebu and Bohol. The city is known as the "City of Golden Friendship" because of the innate friendliness of its people. The many activities one can do in the city and its surrounding suburbs, as well as the many historical and adventure sites in CDO (as it is popularly called) make it a great destination to travel to.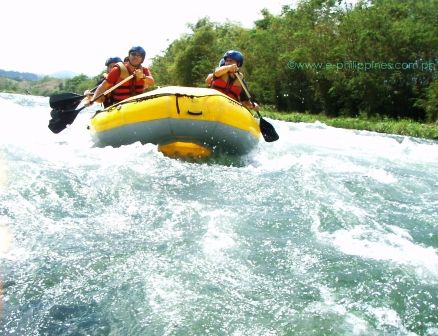 Best Times to Go
Since the city lies outside the typhoon belt, virtually every day is a great time to go. There are only two seasons: Wet and dry. The wet season starts in June and lasts until October while the dry season is from November to May. Average temperature is 28 degrees Celsius with a maximum of 36 degrees Celsius.
Explore the Northern Mindanao