Danao Adventure Park Travel Information
Bohol Packages
for as low as P5,098

Inclusions

N/A

for as low as P2,453

Inclusions

3 days/ 2 nights Standard aircon room accommodation
Daily breakfast
Bohol Countryside Tour with Panglao Island (1 day - click the button for complete details)
Roundtrip Airport Transfers (Tagbilaran Airport - hotel - Tagbilaran Airport)

for as low as P2,709

Inclusions

3 days/ 2 nights Standard aircon room accommodation
daily breakfast
Bohol Countryside Tour with Danao Adventure Park (1 day - click the button for complete details)
roundtrip airport transfers (Tagbilaran Airport - hotel - Tagbilaran Airport)

for as low as P3,086

Inclusions

N/A

for as low as P3,341

Inclusions

3D2N Standard Aircon Room Accommodation
daily breakfast
Countryside Tour with Danao Adventure Park and Loboc-Loay Firefly Cruise (1 day)
Roundtrip Airport Transfers (Tagbilaran Airport - hotel - Tagbilaran Airport)

for as low as P2,811

Inclusions

N/A

for as low as P3,169

Inclusions

3D2N Standard Aircon Room Accommodation
daily breakfast
Bohol Countryside Tour with Panglao Island (1 day)
Dolphin Watching and Balicasag Island Snorkeling (half-day)
Roundtrip Airport Transfers (Tagbilaran Airport - hotel - Tagbilaran Airport)

for as low as P3,424

Inclusions

3D2N Standard Aircon Room Accommodation
daily breakfast
Bohol Countryside Tour with Danao Adventure Park (1 day)
Dolphin Watching and Balicasag Island Snorkeling (1 day)
Roundtrip Airport Transfers (Tagbilaran Airport - hotel - Tagbilaran Airport)
for as low as P4,551

Inclusions

3 days/ 2 nights Standard Room Accommodation
Daily Breakfast
Twin city tour ( Cebu City and Mactan Island)
Bohol Countryside Tour (All Entrance fees)

Loboc River Buffet Lunch
Roundtrip ferry fees ( Cebu - Bohol - Cebu)

Roundtrip Land transfer (Airport - Hotel - Airport)

for as low as P5,762

Inclusions

3 days/ 2 nights Standard Room Accommodation
Daily Breakfast
Twin city tour (Cebu City and Mactan Island)

roundtrip private aircon vehicle transfers

Island Hopping A: Snorkeling and Fish feeding at Talima Marine Sanctuary + Pandanon Island

boat rental
steward services
snorkeling gears
free use of towels
life jackets
entrance fees
packed lunch

Roundtrip Land transfer (Mactan International Airport - hotel - Mactan International Airport)

for as low as P5,719

Inclusions

N/A

for as low as P4,057

Inclusions

3D2N Standard Aircon Room Accommodation
daily breakfast
Bohol Countryside Tour with Danao Adventure Park and Loboc-Loay Firefly Cruise (1 day)
Dolphin Watching and Balicasag Island Snorkeling (half-day)
Roundtrip Airport Transfers (Tagbilaran Airport - hotel - Tagbilaran Airport)

for as low as P3,397

Inclusions

4D3N Standard aircon room accommodation
daily breakfast
Bohol Countryside Tour with Panglao Island (1 day)
roundtrip airport transfers (Tagbilaran Airport - Hotel - Tagbilaran Airport)

for as low as P3,651

Inclusions

4D3N Standard Aircon Room Accommodation
daily breakfast
Bohol Countryside Tour with Danao Adventure Park (1 day)
Roundtrip Airport Transfers (Tagbilaran Airport - hotel - Tagbilaran Airport)

for as low as P4,027

Inclusions

N/A

for as low as P4,281

Inclusions

N/A
for as low as P3,753

Inclusions

N/A

for as low as P4,109

Inclusions

4D3N Standard Aircon Room Accommodation
daily breakfast
Bohol Countryside Tour with Panglao Island (1 day)
Dolphin Watching and Balicasag Island Snorkeling
Roundtrip Airport Transfers (Tagbilaran Airport - hotel - Tagbilaran Airport)

for as low as P4,364

Inclusions

4D3N Standard Aircon Room Accommodation
daily breakfast
Bohol Countryside Tour with Danao Adventure Park (1 day)
Dolphin Watching and Balicasag Island Snorkeling (half-day)
Roundtrip Airport Transfers (Tagbilaran Airport - hotel - Tagbilaran Airport)

for as low as P4,993

Inclusions

4D3N Standard Aircon Room Accommodation
daily breakfast
Bohol Countryside Tour with Danao Adventure Park and Loboc-Loay Firefly Cruise (1 day)
Dolphin Watching and Balicasag Island Snorkeling (half-day)
Roundtrip Airport Transfers (Tagbilaran Airport - hotel - Tagbilaran Airport)

for as low as P5,079

Inclusions

4 days/ 3 nights Standard Room Accommodation
Daily Breakfast
Twin city tour ( Cebu City and Mactan Island)
Bohol Countryside Tour (All Entrance fees)
Loboc River Buffet Lunch
Roundtrip ferry fees ( Cebu - Bohol - Cebu)
Roundtrip Land transfer (Airport - Hotel - Airport)

for as low as P6,308

Inclusions

4 days/ 3 nights Standard Room Accommodation
Daily Breakfast
Twin city tour ( Cebu City and Mactan Island)
Bohol Countryside Tour (All Entrance fees)

Roundtrip ferry fees (Cebu - Bohol - Cebu)
Loboc River Buffet Lunch

Island Adventure (Gilutungan + Nalusuan Island)

boat Rental
steward services
snorkeling gears
free use of towels
life jacket
BBQ Lunch

Roundtrip Land transfer (Airport - Hotel - Airport)
E.A.T Danao stands for Eco/Extreme/Educational Adventure Tour Danao. It is the newest tourism attraction in Bohol.
Eco-Adventure Tour – for those who only want to enjoy the natural sights, the park caters a wide variety of this kind of activity. One can do bird watching, caving, organic farm visit, kayaking, rice field walk or just a sightseeing tour.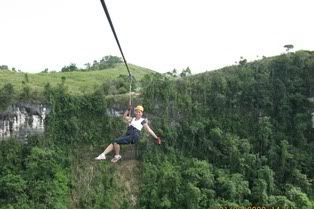 Extreme Adventure Tour – for those who love the real thrill of adventure travel, the park offers the longest and the tallest zipline in the country, the Suislide. Sui-slide is coined from the word, "Suis" (the sound of the cable ride once you get to slide) and "slide". It could also mean for some who is so much petrified with heights to be a suicidal slide. It traverses around 480 meters from one mountain to another, taking you to less than a minute exhilarating ride with a height of 200 meters from the ground.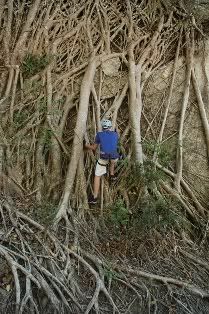 But there's no more extreme than "the Plunge". A canyon swing adventure attraction mounted over a 200 meter high and 300 meter wide gorge. A person would have to do a 45 meters free fall before being launched on a pendulum swing measuring to a hundred meter diameter.
They also offer some extreme activities which is more lighter than the suislide and the plunge. Those includes sky ride, river trekking, river tubing, wall climbing, rappelling, root climbing and caving.
This is not for the faint of heart.
Educational Adventure Tour – A tour intentionaly to educate the tourists and local community on preserving the natural landscape and cultural heritage through activities like showing the importance of watersheds, forest preservation and ecosystem, organic farming methods and its benefits and sharing Danao's pride, Francisco Dagohoy's place in history.
Rates:
A. Entrance Fee
Adult – P25.00
Children three (3) yrs. old below – free entrance
B. Parking Fee
Motorcycle – P 5.00
4-Wheeler Vehicle – P 10.00
6-Wheeler & above – P 20.00
Towing Equipment – P 50.00
Heavy Equipment – P 50.00
Bicycle – P 5.00
Landing fee for aircraft – P 2,000.00
C. Charges for Recreational Equipments/Facilities and Activities
Plunge – P700 per person
Sky Ride – P250 per person
Caving – P350.00/person (minimum of 5 persons)
River Tubing – P200.00/person
Kayaking – P200.00/person
River/Mountain Trekking/Hiking – P200.00/person
Wall Climbing – P100.00/person
Rappel (60m) – P600.00/person (Minimum of 5 pax)
Rappel w/ root climbing – P400.00/person
Suislide – P350.00/person
Tent Rental @ 200.00/rented tent, then 100.00/own tent
Camping – P25 per camper
Village Tour – P200.00/person
Ziplet @ 100.00/pax
* Adventure park is open daily from 8am to 4pm only
*Rates are subject to change without prior notice