Where to Go: Banaue Tourist Spots
Banaue/ Batad Rice Terraces, Cordillera Region Packages
for as low as P4,150

Inclusions

N/A

for as low as P1,993

Inclusions

3 days and 2 nights Banaue Accommodation
daily breakfast
Banaue Adventure Day tour with private jeepney transport (click the button for complete details)
Private Tour guide

for as low as P3,490

Inclusions

3 days/ 2 nights Banaue Accommodation with private bathroom
daily breakfast
Banaue Adventure Day tour with private jeepney transport (click the button for complete details)
Private Tour Guide
Private land transfers - aircon van (Metro Manila - Banaue - Metro Manila)

for as low as P2,561

Inclusions

2 days/ 1 night Banaue accommodation with private bathroom - Banaue Hotel/ twin sharing
2 days/ 1 night Batad accommodation with common bathroom - Hillside Inn or similar lodging (local village inn)
daily breakfast
Banaue Ultimate Adventure Trek tour with private jeepney transport (see details below)
Private Tour guide
for as low as P3,920

Inclusions

2 days/ 1 night Banaue accommodation with private bathroom - Banaue Hotel/ twin sharing
2 days/ 1 night Batad accommodation with common bathroom - Hillside Inn or similar lodging (local village inn)
daily breakfast
Banaue Ultimate Adventure Trek tour with private jeepney transport (see details below)
Private Tour Guide
Private land transfers - aircon van (Metro Manila - Banaue - Metro Manila)

for as low as P3,588

Inclusions

2 days/ 1 night Banaue accommodation with private bathroom - Banaue Hotel/ twin sharing
2 days/ 1 night Batad accommodation with common bathroom - Hillside Inn or similar lodging (local village inn)
2 days/ 1 night Sagada accommodation with private bathroom - George Guest House or Sagada Guest House or similar lodging/ twin sharing
daily breakfast
Banaue Ultimate Adventure Trek with private jeepney transport
Private Tour Guide
Sumaguing Cave expedition, Pongas Falls/ Mount Ampacao trek and Sagada walking tour

for as low as P5,175

Inclusions

2 days/ 1 night Banaue accommodation with private bathroom - Banaue Hotel/ twin sharing
2 days/ 1 night Batad accommodation with common bathroom - Hillside Inn or similar lodging (local village inn)
2 days/ 1 night Sagada accommodation with private bathroom - George Guest House or Sagada Guest House or similar lodging/ twin sharing
daily breakfast
Banaue Ultimate Adventure Trek tour with private jeepney transport (see details below)
Private Tour guide
Sumaguing Cave expedition, Pongas Falls/ Marlboro Country/ Mount Ampacao trek and Sagada walking tour
Private land transfers - aircon van (Metro Manila - Banaue/Sagada - Metro Manila)

for as low as P6,950

Inclusions

N/A
Below are the most visited tourist spots in Banaue.
Banaue Rice Terraces is a UNESCO World Heritage Site included in the list since 1995. Acknowledge as the "Eighth Wonder of the World" by the locals, Banaue Rice Terraces is a 2000 year old marvel painstakingly built by the Banaue people called Ifugao. And because of the outstanding engineering techniques used, Banaue Rice Terraces received an "International Historic Engineering Landmark Award" from the American Society of Civil Engineers. It was also acknowledged by the World Travel and Tour Council as a green globe destination in the Philippines.
The Ifugao primarily built the Rice Terraces to maximize the use of land space. Built by means of primitive tools and early methods, this stone walled wonder exceeds the world's tallest building if the vertical distance between top and bottom row are measured. It is half way round the world if it were laid end to end. Truly, Banaue Rice Terraces is a majestic proof of Filipino's exceptional skills and talent.
Chapah Waterfalls is less than an hour trek from Banaue Poblacion located at Barangay Bocos. Anyone who visits there has the chance to view and photograph the panoramic view of the whole town.
Guihob Natural Pool is a four kilometer drive or walk from the town center. It is a spring coming from a small waterfall ideal for picnics and some refreshing swim.
Ducligan Hot Spring is an hour and a half drive and a 20 minute walk from Banaue's Poblacion. It is perfect for warm baths during cool days. It also has a swimming pool, tubs and other amenities.
Banaue Viewpoint Terraces is where you should go if you want to capture the best perspective of the rice terraces. You can also found some shops selling souvenir items like wood carving and hand crafted stuffs. It lies at 4 kilometers along the road from Banaue town center going to Bontoc.
Tam-an Village is located behind the Banaue Hotel. It is a village of weavers producing traditional clothes. They are also selling different kinds of wood carving and weaved products you can have as a souvenir.
Banaue Ethnic Village and Pine Forest Resort
Banaue Ethnic Village and Pine Forest is a private resort locally known as "Apar Nga-oh". It is a good place for camping, picnics and group getaways. The pine trees are adding a cool ambience to the naturally cold climate in the wide area.
Bangaan Village and Rice Terraces
Bangaan Village and Rice Terraces is a 14 kilometer trek from the Banaue Town Proper. It can be viewed from the side of the road of which is a good alternative for those who can't make the 2 hour trek to Batad.
Banaue Museum is a short walk or tricycle ride from Banaue Town proper. It is a private museum which displays a variety of collected photos, artifacts, books and sculptures that represent the Ifugao traditions and culture.
Museum of Cordillera Sculpture
It is a private museum which shows a fine collection of artifacts and antiques compiled from the different places of the North. Rarely displays a vast of important set of historical traces including sculptures, potteries and woodcrafts. There you can experience and explore the wealthy culture of the Ifugao tribes.
It is located in Spring Village Inn, a short walk or a tricycle ride from the town proper of Banaue.
Batad Village and Rice Terraces
Batad Village and Rice Terraces is approximately located at 16 kilometers from the town proper. You need to drive the 14 kilometer rough road and trek the remaining 2 kilometers before reaching it. Though going there is very difficult and tiring, it is still a worthy experience of viewing the stunning amphitheater shaped rice terraces of Batad.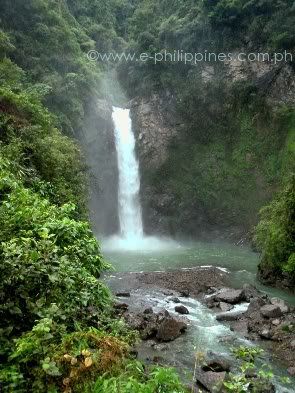 Tappiyah Waterfalls is a towering 70 meter waterfalls located for about 30 minute walk from the Batad Village. It has a wide swimming area of natural pool.
Matanglag Bronze Smith and Nuntamangan Village
This is where you can buy the native jewelries and good luck emblems produced only by means of basic tools and crude.
explore Banaue now! Check out our Tour Packages below!