El Rio y Mar Island Resort in Palawan, Philippines with its unique flora and fauna has its romantic ambiance combined with the serenity and beauty of the natural environment. The resort is set amidst 500 meters stretch of pure white-sand beach, distinctive panoramic view with enchanting mangroves and its breath-taking neighboring islands. Guests can also relax in the well-maintained swimming pool with crystal clear waters.
Create wonderful memories at El Rio y Mar Island Resort – A sanctuary for the soul, a haven for the senses!
Location
El Rio Y Mar is in San Jose, Municipality of Coron, Palawan. A part of the Calamian group of islands, it is situated at the northern tip of Palawan, the Philippines' last frontier.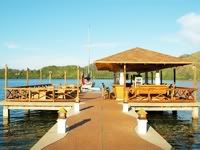 Al Fresco Restaurant (Comedor) serving Asian and International Cuisine which also incorporates the Cuatro Bar
Floating Bar
Fresco Lounge
Spa and Massage
Souvenir Shop and Boutique
Safety deposit and Guest Services
Airline Ticket Reconfirmation
Foreign Exchange
Room Service
24 Hour Security
24 Hour Stand-by generator
Swimming pool
Gameroom
Video and Videoke room
Mini-library
Aqua-sports and Dive shop
Indoor and Outdoor Games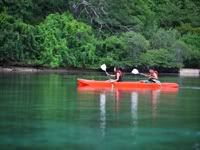 Coron Island Tour – Spend a whole day exploring awe-inspiring sights of Coron Island. Visit the picture-perfect Cayangan Lake, the invigorating Maquinit Hot Springs and the quaint Coron town. Rate includes roundtrip boat and land transfers, packed lunch and services of activity officers.
Island Hopping – Hop into their boats as they tour you to four uninhabited islands. Surely, the sights, both above and underwater, will not fail to enthrall you. Rate includes roundtrip boat transfers, snacks and services of an activity officer.
Island Escapade – Spend time alone with friends and loved ones in a beautiful uninhabited island. Choose from their four romantic island destinations. Definitely not to be missed! Rate includes roundtrip boat transfers, snacks and services of an activity officer.
Calauit Game Preserve and Wildlife Sanctuary is a success story for every Filipino. This island is home to African animals living harmoniously in co-existence with Palawan's indigenous species. It caters for scientific, educational, tourism and recreational activities by providing enjoyment of the wilderness and opportunities for greater awareness on the importance and appreciation of conservation of the natural and cultural heritage of this beautiful area.
Diving – They are continuously exploring new islands and dive sites for your discovery and pleasure. They have identified the following wonderful and exciting sites scattered around the Calamian Group of Islands. They also offer courses on diving for adventurous individuals. Come, the underwater world awaits you!
Water Sports – You'll never get bored with all the possibilities the resort offers – you can just bask under the sun, laze under a tree or relax on a hammock. If you like to seek adventure and discovery – try snorkeling, yatching, scuba diving, bird watching, hobiecat sailing, windsurfing, kayaking, island hopping, diving or visit other nearby tourist attractions like Calauit Wildlife Sanctuary and the awe-inspiring Cayangan Lake among others.
Also, their Guest Services Officers have prepared programmed activities such as cultural shows, environmental shows, indoor sports tournaments such as table tennis, billiards and darts, group board games, ballroom and disco dancing, treasure hunting, parties and other fun activities both for kids and adults. Picnic lunches, sunset dinners, cocktails and cruises can also be arranged depending on prevailing sea and weather conditions.