Lagen Island Resort – El Nido
Lagen Island Resort – El Nido Packages
for as low as P37,820

Inclusions

3D/2N room accommodation
Breakfast with brewed coffee and tea at the Clubhouse Restaurant
Use of resort facilities: swimming pool, gym, library
Use of snorkeling equipment
Use of available non-motorized water sports equipment (hobie cat, windsurf, kayak, etc.)
Roundtrip Airfare
Roundtrip boat transfers on the regular airport shuttle
All rates includes service charge and government tax

for as low as P37,820

Inclusions

3D/2N room accommodation
Full-board meals with brewed coffee and tea at the Clubhouse Restaurant
Use of resort facilities: swimming pool, gym, library
Use of snorkeling equipment
Use of available non-motorized water sports equipment (hobie cat, windsurf, kayak, etc.)
Standard resort guided activities/tours and use of beach clubs
Roundtrip Airfare
Roundtrip boat transfers on the regular airport shuttle
All rates includes service charge and government tax

for as low as P31,030

Inclusions

3D/2N room accommodation
Breakfast with brewed coffee and tea at the Clubhouse Restaurant
Use of resort facilities: swimming pool, gym, library
Use of snorkeling equipment
Use of available non-motorized water sports equipment (hobie cat, windsurf, kayak, etc.)
Roundtrip Airfare
Roundtrip boat transfers on the regular airport shuttle
All rates includes service charge and government tax

for as low as P37,620

Inclusions

3D/2N room accommodation
Full-board meals with brewed coffee and tea at the Clubhouse Restaurant
Use of resort facilities: swimming pool, gym, library
Use of snorkeling equipment
Use of available non-motorized water sports equipment (hobie cat, windsurf, kayak, etc.)
Standard resort guided activities/tours and use of beach clubs
Roundtrip Airfare
Roundtrip boat transfers on the regular airport shuttle
All rates includes service charge and government tax

for as low as P51,930

Inclusions

4D/3N room accommodation
Breakfast with brewed coffee and tea at the Clubhouse Restaurant
Use of resort facilities: swimming pool, gym, library
Use of snorkeling equipment
Use of available non-motorized water sports equipment (hobie cat, windsurf, kayak, etc.)
Roundtrip Airfare
Roundtrip boat transfers on the regular airport shuttle
All rates includes service charge and government tax

for as low as P51,930

Inclusions

4D/3N room accommodation
Full-board meals with brewed coffee and tea at the Clubhouse Restaurant
Use of resort facilities: swimming pool, gym, library
Use of snorkeling equipment
Use of available non-motorized water sports equipment (hobie cat, windsurf, kayak, etc.)
Standard resort guided activities/tours and use of beach clubs
Roundtrip Airfare
Roundtrip boat transfers on the regular airport shuttle
All rates includes service charge and government tax

for as low as P41,850

Inclusions

4D/3N room accommodation
Breakfast with brewed coffee and tea at the Clubhouse Restaurant
Use of resort facilities: swimming pool, gym, library
Use of snorkeling equipment
Use of available non-motorized water sports equipment (hobie cat, windsurf, kayak, etc.)
Roundtrip Airfare
Roundtrip boat transfers on the regular airport shuttle
All rates includes service charge and government tax

for as low as P51,730

Inclusions

4D/3N room accommodation
Full-board meals with brewed coffee and tea at the Clubhouse Restaurant
Use of resort facilities: swimming pool, gym, library
Use of snorkeling equipment
Use of available non-motorized water sports equipment (hobie cat, windsurf, kayak, etc.)
Standard resort guided activities/tours and use of beach clubs
Roundtrip Airfare
Roundtrip boat transfers on the regular airport shuttle
All rates includes service charge and government tax
for as low as P55,180

Inclusions

4D/3N room accommodation
Full-board meals with brewed coffee and tea at the Clubhouse Restaurant
Upgraded menu and entertainment in welcoming Christmas day
Use of resort facilities: swimming pool, gym, library
Use of snorkeling equipment
Use of available non-motorized water sports equipment (hobie cat, windsurf, kayak, etc.)
Standard resort guided activities/tours and use of beach clubs
Roundtrip Airfare
Roundtrip boat transfers on the regular airport shuttle
All rates includes service charge and government tax

for as low as P52,130

Inclusions

4D/3N room accommodation
Full-board meals with brewed coffee and tea at the Clubhouse Restaurant
Use of resort facilities: swimming pool, gym, library
Use of snorkeling equipment
Use of available non-motorized water sports equipment (hobie cat, windsurf, kayak, etc.)
Standard resort guided activities/tours and use of beach clubs
Roundtrip Airfare
Roundtrip boat transfers on the regular airport shuttle
All rates includes service charge and government tax

for as low as P55,790

Inclusions

4D/3N room accommodation
Full-board meals with brewed coffee and tea at the Clubhouse Restaurant
Upgraded menu and entertainment in welcoming the New year
Use of resort facilities: swimming pool, gym, library
Use of snorkeling equipment
Use of available non-motorized water sports equipment (hobie cat, windsurf, kayak, etc.)
Standard resort guided activities/tours and use of beach clubs
Roundtrip Airfare
Roundtrip boat transfers on the regular airport shuttle
All rates includes service charge and government tax

for as low as P66,050

Inclusions

5D/4N room accommodation
Full-board meals with brewed coffee and tea at the Clubhouse Restaurant
Use of resort facilities: swimming pool, gym, library
Use of snorkeling equipment
Use of available non-motorized water sports equipment (hobie cat, windsurf, kayak, etc.)
Standard resort guided activities/tours and use of beach clubs
Roundtrip Airfare
Roundtrip boat transfers on the regular airport shuttle
All rates includes service charge and government tax

for as low as P66,050

Inclusions

5D/4N room accommodation
Breakfast with brewed coffee and tea at the Clubhouse Restaurant
Use of resort facilities: swimming pool, gym, library
Use of snorkeling equipment
Use of available non-motorized water sports equipment (hobie cat, windsurf, kayak, etc.)
Roundtrip Airfare
Roundtrip boat transfers on the regular airport shuttle
All rates includes service charge and government tax

for as low as P52,670

Inclusions

5D/4N room accommodation
Full-board meals with brewed coffee and tea at the Clubhouse Restaurant
Use of resort facilities: swimming pool, gym, library
Use of snorkeling equipment
Use of available non-motorized water sports equipment (hobie cat, windsurf, kayak, etc.)
Standard resort guided activities/tours and use of beach clubs
Roundtrip Airfare
Roundtrip boat transfers on the regular airport shuttle
All rates includes service charge and government tax

for as low as P65,850

Inclusions

5D/4N room accommodation
Full-board meals with brewed coffee and tea at the Clubhouse Restaurant
Use of resort facilities: swimming pool, gym, library
Use of snorkeling equipment
Use of available non-motorized water sports equipment (hobie cat, windsurf, kayak, etc.)
Standard resort guided activities/tours and use of beach clubs
Roundtrip Airfare
Roundtrip boat transfers on the regular airport shuttle
All rates includes service charge and government tax

for as low as P69,300

Inclusions

5D/4N room accommodation
Full-board meals with brewed coffee and tea at the Clubhouse Restaurant
Upgraded menu and entertainment in welcoming Christmas day
Use of resort facilities: swimming pool, gym, library
Use of snorkeling equipment
Use of available non-motorized water sports equipment (hobie cat, windsurf, kayak, etc.)
Standard resort guided activities/tours and use of beach clubs
Roundtrip Airfare
Roundtrip boat transfers on the regular airport shuttle
All rates includes service charge and government tax
for as low as P66,250

Inclusions

5D/4N room accommodation
Full-board meals with brewed coffee and tea at the Clubhouse Restaurant
Use of resort facilities: swimming pool, gym, library
Use of snorkeling equipment
Use of available non-motorized water sports equipment (hobie cat, windsurf, kayak, etc.)
Standard resort guided activities/tours and use of beach clubs
Roundtrip Airfare
Roundtrip boat transfers on the regular airport shuttle
All rates includes service charge and government tax

for as low as P69,910

Inclusions

5D/4N room accommodation
Full-board meals with brewed coffee and tea at the Clubhouse Restaurant
Upgraded menu and entertainment in welcoming the New year
Use of resort facilities: swimming pool, gym, library
Use of snorkeling equipment
Use of available non-motorized water sports equipment (hobie cat, windsurf, kayak, etc.)
Standard resort guided activities/tours and use of beach clubs
Roundtrip Airfare
Roundtrip boat transfers on the regular airport shuttle
All rates includes service charge and government tax

for as low as P83,410

Inclusions

6D/5N room accommodation
Full-board meals with brewed coffee and tea at the Clubhouse Restaurant
Upgraded menu and entertainment in welcoming Christmas day
Use of resort facilities: swimming pool, gym, library
Use of snorkeling equipment
Use of available non-motorized water sports equipment (hobie cat, windsurf, kayak, etc.)
Standard resort guided activities/tours and use of beach clubs
Roundtrip Airfare
Roundtrip boat transfers on the regular airport shuttle
All rates includes service charge and government tax

for as low as P80,360

Inclusions

6D/5N room accommodation
Full-board meals with brewed coffee and tea at the Clubhouse Restaurant
Use of resort facilities: swimming pool, gym, library
Use of snorkeling equipment
Use of available non-motorized water sports equipment (hobie cat, windsurf, kayak, etc.)
Standard resort guided activities/tours and use of beach clubs
Roundtrip Airfare
Roundtrip boat transfers on the regular airport shuttle
All rates includes service charge and government tax

for as low as P84,020

Inclusions

6D/5N room accommodation
Full-board meals with brewed coffee and tea at the Clubhouse Restaurant
Upgraded menu and entertainment in welcoming the New year
Use of resort facilities: swimming pool, gym, library
Use of snorkeling equipment
Use of available non-motorized water sports equipment (hobie cat, windsurf, kayak, etc.)
Standard resort guided activities/tours and use of beach clubs
Roundtrip Airfare
Roundtrip boat transfers on the regular airport shuttle
All rates includes service charge and government tax
Lagen Island Resort in El Nido, Palawan, Philippines is set in a cove, fringed by a thick primary forest. The sprawling grounds cover more than four hectares. Lagen Island is a showcase of El Nido's flora and fauna, where trees provide various niches for a diverse variety of birds and mammals, providing a wealth of opportunities and experiences for wildlife observation and sightings. At the back of the resort is a trail that passes through a forest and ends in a private cove. The Lagen trail is one of the best sites for bird-watching, more rewarding during the early morning or towards late afternoon. Lagen Island hosts a high diversity of birds including almost all of the species endemic to Palawan.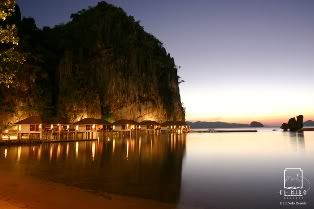 El Nido is a municipality located at the northwestern tip of the province of Palawan in the Philippines. It is about 430 kilometers southwest of Manila, and about 238 kilometers northwest of Puerto Princesa, Palawan's capital. El Nido is bordered by the Linapacan Strait in the north, the Sulu Sea in the east, and the South China Sea in the west.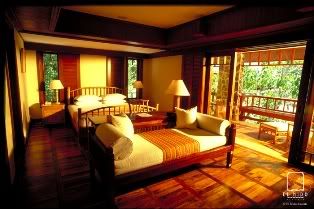 The restaurant serves a selection of fresh seafood and a variety of local and international cuisine. The restaurant is divided into two sections: the air-conditioned main dining area and the al fresco dining area.
Entertainment – El Nido Resorts takes pride in its very own cultural show which features the traditional Filipino dances and songs. The show is participated no other than by the resort's very own staff.
Conference Room – A conference room with a maximum capacity of 70 persons, fully equipped with audiovisual equipment including a television, VHS player, slide and overhead projectors.
Swimming Pools – Right in front of the clubhouse is the 12 x 25 meter swimming pool, built at an even level of 4 feet so as not to disturb the underlying root structures. Cushioned lounge chairs surround the pool while the nearby pool bar serves a selection of cold drinks, wines and spirits.
There is also a Marine Sports Center at the resort with a complete line of diving and snorkeling equipments as well as kayaks, windsurfs, and hobie cat.
The lobby lounge and bar
A game area with a billiard table, dart boards, and table tennis facilities
Safety

Fire warning system
The resort is equipped with manual fire alarms (break glass, push button). Each bedroom is also equipped with smoke detectors.
Fire extinguishers – fire extinguishers can be found on the bedroom corridors.
Fire escapes – the escape routes are clear of obstruction at all times.
The resort clinic
Equipped with basic medical facilities and manned by a qualified nurse.
An air-conditioned library and video room
It is the scenic landscape, crystal clear waters, and relative isolation that attracts and fascinates most travelers to El Nido. The 45 islands and islets and the surrounding sea present endless opportunities for adventure, nature appreciation, and even just simple pleasures.
The resort offers a wide range of activities, from soft adventure sports to more leisurely pursuits. All activities are arranged according to your preferences. Our guest activity coordinators there help you plan your stay.
Kayaking
Paddle your way to nature's wonders at your leisure. Use of special sea kayaks, and regular kayaks are available at the Marine Sports Center.
Snorkeling
Take the plunge! Guests are encouraged to take an introductory dive. Intro dive or snorkel from the Miniloc's pier where hundreds of coral fish and giant Jackfish swim around our house reef. You can be adventurous and explore them on your own, or be accompanied by our Marine Sports Guides. A complete line of snorkeling equipment may be used for free on a first come first serve basis.
Diving
The following dive courses are offered at El Nido Resort Lagen Island: Open Water, Advance and Rescue Diving. Dive courses must be pre-arranged with the Sales and Marketing Office of El Nido Resorts and require at least five days to complete.
The dive sites range from gradual slopes to drop-offs, wall dives to reef flats. Visibility is generally good, with an average of 10 to 30 meters in the summer months of March until May.
Dive equipment available for rent at Lagen Island Resort include BCDs, regulators, wetsuits, weights, mask, fins and snorkels. Equipment rental is on a first come first serve basis.
Lagen Island Resort has a total of 51 rooms with a variety of accommodation types to choose from. There are water cottages built on stilts on both sides of its cove, Beachfront Cottages with a view of the entire cove and of the sunset, Forest Rooms and Forest Suites built on the fringes of a tropical forest.
All cottages, rooms and suites have floors made of antique wood, furnishing made of old wood from old Filipino houses and a full-height sliding glass doors that open up to a private verandah, and depending on the room, affords guests with views of the cove, the cliffs, the bay or the sunset. Each cottage, room and suite is air-conditioned and has a private toilet and shower with bath amenities and a hair dryer, a mini-bar, stereo system with CD player, and IDD telephone.
Room Types – 18 Water Cottages that are built on stilts 9 Beachfront Cottages with a magnificent view of the entire cove 20 Forest Rooms built on the fringes of a tropical forest 4 Forest Suites built on the fringes of a tropical forest.
Showers & toilets – each room has a private toilet and shower with bath amenities and a hair dryer Hot Water – Both hot and cold running water are available in every room's shower facilities.
Electricity – Electricity (220 volts, 60 cycles) is available 24 hours. Outlets are for plugs with two flat prongs. Transformers and adaptors are available at the resort.
All cottages and rooms have the following features
Individually controlled air-conditioning
Daybed
Writing desk
Mini-bar
Room-to-Room and NDD/IDD telephone
Private toilet and shower with hot and cold running water
Bath amenities including biodegradable soap and shampoo
Hair dryer
Stereo system with CD player