Alegre Beach Resort and Spa
Alegre Beach Resort and Spa Packages
for as low as N/A

Inclusions

3D/2N Room Accommodation
Welcome drinks, welcome lei, cold towel
Complimentary fruit basket in the room
Full breakfast
Roundtrip land transfers and scheduled city shuttle service
Alegre cruise with a chance to see dolphins

for as low as N/A

Inclusions

4D/3N Room Accommodation
Welcome drinks, welcome lei, cold towel
Complimentary fruit basket in the room
Full breakfast
Roundtrip land transfers and scheduled city shuttle service
Alegre cruise with a chance to see dolphins
Contents:
Alegre Beach Resort and Spa in Cebu, Philippines is a AAA resort (comparable to a 5-star hotel). A tropical island paradise for a traveler, adventurer or whatever type of vacation you prefer. It is an exclusive and primary beach resort in the northern part of Cebu, proud of its world-class facilities and a service of the true Filipino hospitality.
Location
Alegre Beach Resort and Spa is located in the Visayas Region, Culomboyan, Sogod, Cebu, Philippines. It is approximately 1.75-2hours (75km) drive from Cebu-Mactan International Airport (which is about 1.25hour flight from Manila).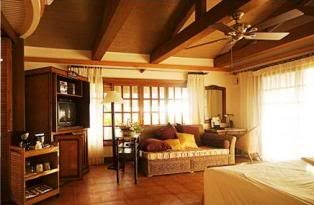 Amenities and Facilities
Alegre Beach Resort and Spa's interior design are all inspired by the island's rich history. Its blueprint shows a homey feeling yet with elegant sense. The furniture is made of wood, bathrooms are marbled and the rooms are very stylish. It also has complete amenities for the guest's convenience and total experience.
20 cabanas (each has spacious and adjoining bedrooms, oversized bathrooms and private verandas). All set in a lush tropical ground where you can choose between a room overlooking the calm ocean and a room with a cool view of a private garden.
The Reception is an open area where you can already view the adjacent swimming pool inviting you for a cool dip. The swimming area is 45m in size. Children can also enjoy because it also has 2 pools for them.
Selected rooms have mini-bars, wi-fi, satellite television, hairdryers, safes, coffee makers, air-conditioners and other facilities expected in a world-class resort.
Pavilion Restaurant and Lounge Bar – on which you have a choice if you want your dining set in an air-conditioned place or in an alfresco style viewing the ocean. It offers a wide variety of mouth watering dishes, either native or international food, it's your choice. And they are proud of their freshly caught seafood ready to serve you.
Groove your nights at The Cliff Seafood BBQ and Bar. Watch and just have fun with its night barbeque trips with live music.
Three Private Beach Coves are available for a swimming break. Secluded by limestone cliffs, these beaches never get crowded. Its exclusivity will make you feel relax and as if you own the whole island.
Conference Room is available for the guest's use which can accommodate up to 100 people. It is well equipped with business equipment and the room can be subdivided into smaller space.
Alegre Business Center is available for use from 6am until 10pm. It has a high-speed internet access so you can work while you relax.
Internet connection is available in selected cabanas, Alegre Business Center, meeting rooms and reception area only though extension of this service can be expected.
The Alegre Spa offers a soothing skin cleansing ritual which will definitely enjoy. You can have it outdoor or in the spa cabana with two double treatment rooms. Spa is open from 9am-10pm daily. Reservations can be made only until 8pm.
Fitness Gym is also available from 6am-10pm
24 hours service is available for the guest's convenience. The staffs are friendly and helpful.
Activities
Alegre Beach Resort and Spa boasts of indoor and outdoor activities you can enjoy while staying there. You will never get bored as they introduce a lot of pleasurable sports to make your vacation more fun.
Golf – Golf courses are not exactly available inside the resort though they are promoting 2 golf courses located 45minutes drive away from the resort. Those are Mercedez Golf Course with par 72 courses which is suitable for all levels and Club Filipino which is a member of Golf Courses of Cebu which is for more advance player because of its rugged countryside location.
Biking and Trekking – mountain bikes are available for rent. You can rent it and explore the more rugged spots of the island and resort. It has rocky terrain for a more adventurous biking and trekking experience.
Aqua sports – Alegre Beach Resort provides facilities for aqua sports to help you benefit from its wide water area. Take advantage of the sports of snorkeling, jet-skiing, windsurfing, kayaking, and diving at the house reef.
Island Hopping – you have the freedom to explore the resort and its outside world.
Indoor Games – Indoor games like table tennis, dart, foosball, billiards and mahjong are available from 6am-10pm. A mini-library and karaoke space is also on hand.