Ilocos at the Northwest Coast of the Philippines is now a booming tourist attraction. From national museums, parks, to beach destinations, Ilocos is an all-in-one vacation spot!…

Read More
Touring the Countryside of Bohol (Day 3)
Touring the countryside of Bohol: Loboc church, the Tarsier and the World- famous Chocolate Hills ( Day 3)
The plan for the day was to go to hear mass at Loboc church. We left early to catch the world famous Loboc Children's Choir. One thing about commuting in the provinces is that you need to have a lot of extra time in your hands because it takes hours…and hours in between busses and jeepneys. We did not realize that it would be such a long wait and commute that by the time we got to the Loboc church, all the masses were over and we had already missed the choir. The trip was not at all a waste though because the centuries old church in itself is a cultural gift. I sat on one of the wooden church benches and marvelled at the old hand painted walls and ceilings. The pulpit was still there although it was obvious that no one had used it for a very long time. Strangely enough, as I continued to look around, it felt like the stories in my history books were coming alive. It was easy to imagine the Priest rendering his sermon in the pulpit while the people in their Spanish frocks obediently listened.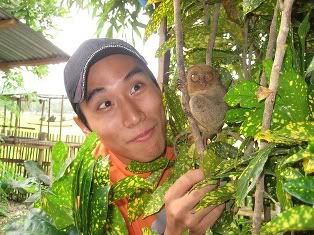 After a quick tour of the past, we travelled to a Tarsier sanctuary for a quick stopover. Here, we were greeted by a man- made Tarsier Sanctuary. Considered as the smallest primates in the world, they have been one of the top tourist attractions in Bohol. Fortunately, this sanctuary prohibited people from touching or holding them.
From there, we hopped into a bus going to the Chocolate hills. Upon arriving at the entrance, we were led to a path leading to a long flight of stairs. We were told that this led up to the viewing deck which was actually a platform on top of one of the hills. It was quite tiring but it was definitely worth it. Seeing the 1,776 "chocolate hills": lumped together with some as high as 50 meters was a sight to behold. Although, since it was February and it had been raining the past days, the grass was still green as opposed to the brown grass during summer season that got it the famous name.
Finally at 4 pm we got back to Alona beach for some R'n'R. The cold drink and the grilled assorted shells were just what we wanted to celebrate the end of our vacation in this wonderful and welcoming escape.
Parts:
First Time in Alona Beach, Bohol (Day 1)
Off to see the Dolphins and snorkel at Balicasag Island (Day 2)
Touring the Countryside of Bohol (Day 3)
Do you also want to explore Bohol? Check out our Bohol Travel Packages.
Click here to view our other photos of Bohol.