Ilocos at the Northwest Coast of the Philippines is now a booming tourist attraction. From national museums, parks, to beach destinations, Ilocos is an all-in-one vacation spot!…

Read More
Off to see the Dolphins and snorkel at Balicasag Island (Day 2)
Off to see the Dolphins and snorkel at the world-class divesite, Balicasag Island (Day 2)
We went dolphin watching at the crack of dawn on a very stormy weather. After about 20 minutes at sea, the dolphins started to show up…one after the other. What a thrill! By this time I was already sitting at the front of our boat with my legs hanging and almost touching the water and almost reaching the dolphins. I could see their fins appearing on both sides of our boat. They gave quite a show, jumping and spinning in every direction. I did not get a clear video though because one minute they're on the surface and at a blink of an eye, they're gone.
Next stop was the marine sanctuary fronting Balicasag island. It is 30-45 minutes away from Alona beach. This famous marine sanctuary is considered as one of the best dive spots in the world. There are lots of tourists in the area. The water is only waist deep but if you can't swim, be sure to wear a life vest because the water level becomes very deep a hundred meters from shore. It is also highly advisable to wear aqua socks.
For some reason, the water in Bohol is so much clearer than in most places that I have visited in the Philippines and abroad. It has an aquamarine tone under water which makes the fish and other organisms appear even more vibrant. It was just teeming with life. Until now, this is still my favourite snorkelling experience. As I swam further and further towards the drop, I started to see schools of bigger fish. It probably would have been a great dive experience. I'll save that thought for my next trips to Bohol.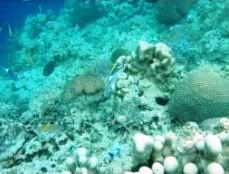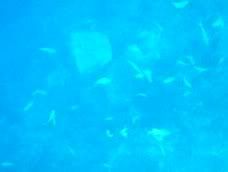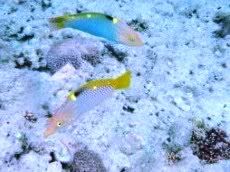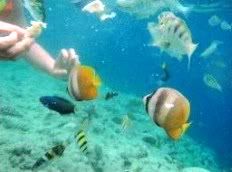 The sand on the island is just ok. The only resort, Balicasag Island resort, is government owned and run by the Philippine Tourism Authority. It has airconditioned native inspired cottages and an open air bar and restaurant. There's nothing much to do in this island but it is a perfect place for divers because of its proximity to the dive sites. All tourist boats are parked on the rocky shore of the island. There is a small community living here and they offer fresh seafood and meats mostly for grilling. We ate chicken adobo and a whole grilled fish.
Late in the afternoon, just before dinner, we hired a tricycle and went to Dumaluan/ Bolod Beach. The beach here is long and wide and the sand is white and powdery soft. There are a number of resorts here to choose from but the most popular and expensive ones are located in this more private area. The visitors here are mostly Asians – Japanese, Koreans, Chinese, etc. This is a stark contrast to the generally European and American tourists on the other side.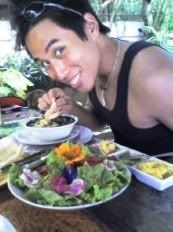 It had started to pour so we ditched the beach and went to Bohol Bee farm which offers sanctuary and an alternative experience of healthy living. As the restaurant chef prepared our buffet meal, we went for a leisurely walk within the property to build up our appetite. There was too much to experience and too little time. They had several restaurant areas and function rooms but my personal favourite was The Cave. It is a roofed restaurant with a beautiful and clean indoor pool. There were also literatures to read to kill time…not that we ever needed to.
They had a store where one can buy the perfect pasalubong, offering all sorts of unique and yummy spreads, barquillos, breads and muffins, honey of course, soaps organic and many other interesting finds. There was also an organic garden, nipa hut massage areas and a sunbathing lounge where only check in guests can take a dip and snorkel. My parents would fall in love with the place. It is perfect for people who want some quiet time to relax and enjoy the nature. If you do not want to spoil your relaxed mood, remember to bring an insect repellant. The mosquitos here can get pretty nasty.
And then…it was time to eat!!! Just thinking about it now makes my mouth water. The menu offers foods that are strangely familiar but are different in many ways because of how the ingredients were used. It is so interesting and diverse that it is guaranteed to tickle not only you palate but your mind as well. We had such a hard time choosing from the menu so we decided to go for the buffet.
For appetizers we had very thin crunchy chips made from ground tapioca with salsa, squash, corn and carrot muffins, sliced camote/ sweet potato bread with honey, mango and pesto spreads and a salad of home grown organic lettuce and edible colourful flowers with organic vinaigrette. When I was small I used to pound the bougainvillea buds to make red dye. I even used to step on them just for fun. I never realized that someday I'd eat them in a salad. Eating flowers felt weird at first but they're actually very good. The soup was a seafood soup with organic vegetables, small shrimps and shells stewed in a clean fresh broth. Our main course was red rice, spare ribs which was very tender, honey glazed chicken which delicious! We also had grilled marlins and prawns and pasta. The meal was very filling and our lemon grass iced tea was very refreshing. Our happy ending was Honeyed halo-halo with tapioca balls and home-made ice cream. I THINK I DIED AND WENT STRAIGHT TO CULINARY HEAVEN!
Parts:
First Time in Alona Beach, Bohol (Day 1)
Off to see the Dolphins and snorkel at Balicasag Island (Day 2)
Touring the Countryside of Bohol (Day 3)