Ilocos at the Northwest Coast of the Philippines is now a booming tourist attraction. From national museums, parks, to beach destinations, Ilocos is an all-in-one vacation spot!…

Read More
First Time in Alona Beach, Bohol (Day 1)
Destination: Bohol
Tour Date: February 2009
Bohol is located in Central Visayas. People of Bohol are said to be decendants of the "Pintados" and most speak Boholano, which is a local Cebuano dialect.
There are basically two popular beach drop-off destinations in Bohol, the Alona beach and Dumaluan or Bolod beach. These beaches are all located in Panglao island which is a 30-minute ride from the Tagbilaran airport. We chose to stay in Alona beach since it offers a variety of beach resorts and accommodations from budget to high-end, as well as a variety of restaurants offering different local and international cuisines.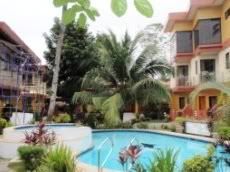 We can only afford to travel for 3 days and we had no time to waste. We changed our clothes, left our bags to the reception desk so they can check us in when our room is available and off we went to start our Bohol adventure!
As we walked along Alona beach, we met with our designated boat captain/driver , Kuya Joel. First stop was swimming with the Pawikans! When he offered this stop to us, we immediately asked, "hindi ba bawal yun?" – thinking that the turtles were caged in a certain location but he assured us that the turtles are not caged and are able to swim freely. At the middle of nowhere and on the midst of all blue seas, I caught a glimpse of what looked to be a small hut erected on high stilts…A SMALL HUT? Our boat took a halt right beside the hut where an old man in his late 60's or 70's was waiting. The man smiled greeted us in Bisaya while grilling a fish that he had caught earlier in the day. He did not know how to speak in Tagalog so our boatmen translated for us. He gave us a go signal to jump in the water to swim with the turtles. The tides were still low, the water was only waist deep and the surface was very calm that day. There were 3 turtles – 2 big ones and a small one. There were long ropes tied at the back of the shell of each Pawikan but it seemed to me that they were able to swim freely. They were beautiful!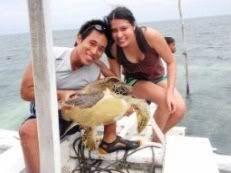 I was amazed at how the old man survives at the middle of the sea. According to him, his wife often comes to visit to accompany him there and bring supplies. He uses his boat, pointing to a small outrigger boat tied to one stilt, to fish and to go to town whenever he needs to do so. He stays there undisturbed, even when there is a storm unless there is news of strong typhoon coming. He was selling some of his catch for the day. We got one big swordfish, paid for everything and went our way to the Virgin island.
The island was small and one can go around it in less than 15 minutes. The sand was cream and quite fine. To me, what gave charm to it was the sense of privacy since there were only six tourists when we got there.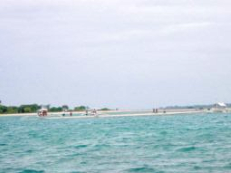 Our last stop for the day was Birding Marine Sanctuary. According to our very tactful guide/boat captain, this is a marine protected area where fishing is strictly prohibited. The water is deep. I dove a number of times to get a closer look on the corals but even from the surface, I could clearly see the through the clear light blue water the colourful fish and corals. There were no big ones though.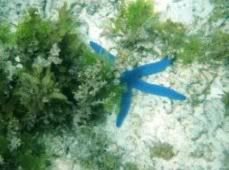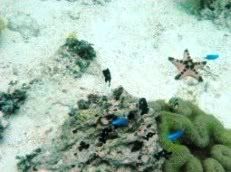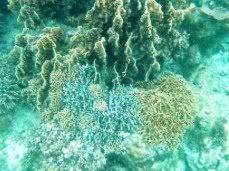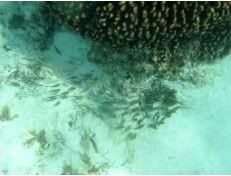 There are a lot of al fresco restaurants and eateries to choose from in Alona beach. We had our very late lunch at around 3pm where we had seafood curry, a big plate of spaghetti and an equally big and filling banana crepe.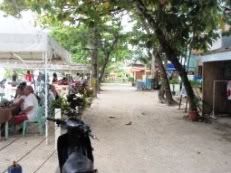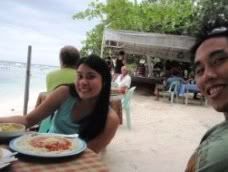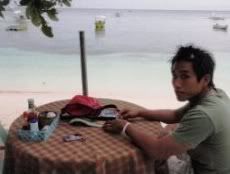 The food was nothing extraordinary but the view and the weather was more that I could have asked for. As I took a walk after a very hardy meal, the place and the people reminded me of a small town where everybody knew each other. It was packed with locals, Europeans and Americans. I passed by some locals playing billiards, Europeans having beers, Americans having a meal and others simply hanging out and going about their usual business. This laid back lifestyle is probably the reason why a lot of visitors chose to make Panglao island their permanent home.
Since it was a Friday, hour after the hour in the late afternoon, locals started pouring in and before long, the beachfront was packed. Good thing we had already spread our mat and secured a spot. It was a fun afternoon of relaxing, reading, swimming and throwing Frisbee.
Dinner was at one of the restaurants along the beach where the fish, shellfish, poultry and meat are lined up ready to be cooked to the diner's liking. By this time – around 9PM – there were very few people outside. We had some juicy chicken barbecue, grilled giant shrimps, a whole grilled fish and sinigang na ulo ng lapu lapu.
We went into a small but homey coffee shop owned by a European and his Filipino wife where they sold very inviting cakes and sweets on display. They offer personal sized cakes as well as coffee or tea to go with the cakes. The black forest and the chocolate eclair satisfied my sweet craving for the night.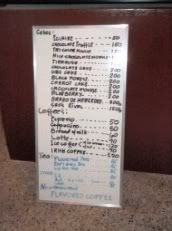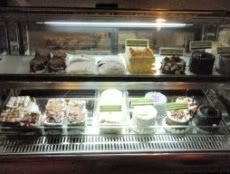 …to be continued.
Parts:
First Time in Alona Beach, Bohol (Day 1)
Off to see the Dolphins and snorkel at Balicasag Island (Day 2)
Touring the Countryside of Bohol (Day 3)